Dreaming of a career that combines your love of travel and adorable pets? Then Jetpets may have the job for you!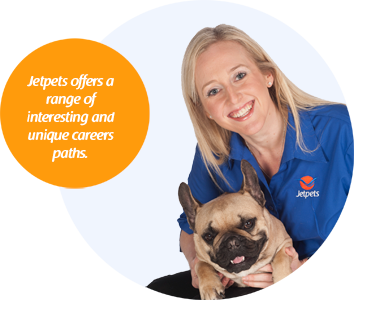 The Jetpets Head Office is located in Melbourne, with depots in Sydney, Perth and Brisbane.
Some of the perks of working at Jetpets include:
A great social culture
Attractive hours
Job variety
Opportunity for domestic and international travel
Company provided uniforms
Company provided voluntary personal training sessions
Access to in-house company veterinary advice
Professional on the job training support
Equal or above award salary conditions
The opportunity to surround yourself with much loved pets
But don't just take our word for it!
"Jetpets is a bustling, vibrant company to work for. I get the best of both worlds in regards to customer service, discussing both passions of mine which are travel and animals. It's a real team environment with a friendly atmosphere and I have gained firm friends both inside and outside of work. It's always busy, which makes time fly, but we still get time to see all the cute puppies that come through our doors which makes it all worthwhile!"
Kaye – International Consultant
Current Vacancies
There are no current vacancies. Please send expressions of interest to: careers@jetpets.com.au