At Jetpets, we're a team of pet travel experts who are first and foremost, animal lovers. As fur parents ourselves, we know how real separation anxiety can be when you're forced to look into your pooch's big, doleful puppy eyes as you say your final goodbyes before leaving the house. But never fear, we've got you covered – if you're planning on moving to or just moved to the land of Big Ben with your furry BFF, there's plenty of dog-friendly eateries in London, UK.
London's Best Dog-Friendly Cafes & Restaurants
We've done a little bit of research and have compiled a list of some of the most popular dog-friendly cafes and restaurants in London. Once you and your furbaby have settled into your new home, why not try out the local fare with your four-legged BFF in tow?
1. The Book Club – Shoreditch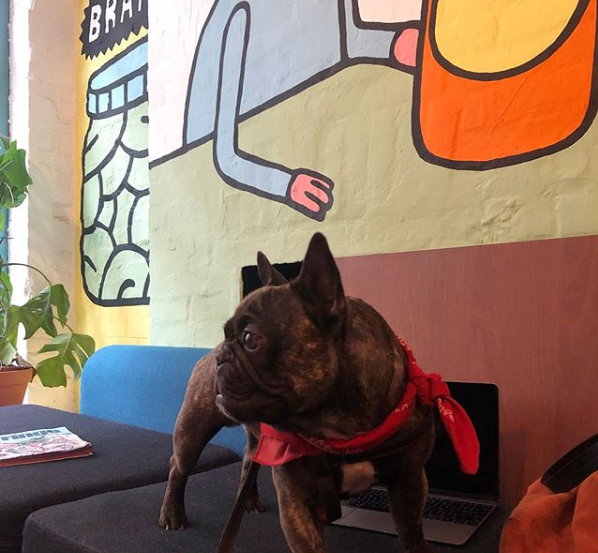 Image: @bandanabale
The perfect spot to get your creative juices flowing while sipping on freshly ground volcano coffee, The Book Club is a dog-friendly London cafe that serves up a delicious menu from early morning till late. There's even a ping pong table if you're up for a challenge!
Learn more about The Book Club's pet-friendly cafe here.
2. Savage Garden – City of London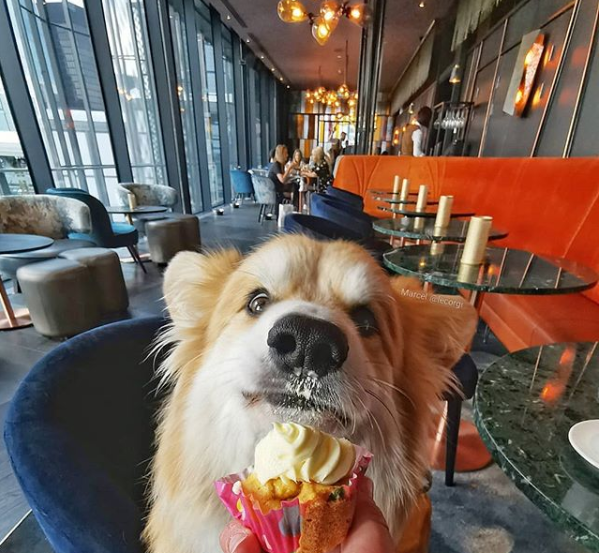 Image: @lecorgi
With jaw-dropping views of the London skyline including Tower of London and St Paul's Cathedral, Savage Garden holds a bi-monthly dog brunch for co-dependent fur parents. Your pup will be treated to a Savage pupcake and you can even throw in a pawsecco for your BFF if you're feeling fancy (…or don't want to drink alone). What more could you or your pup ask for?
Find out when Savage Garden's bi-monthly dog brunch in London is on next here.
3. Bluebird Cafe – Chelsea
Image: @beccadelaroque
Located right on the King's Road, Bluebird dishes up delectable European food and cocktails, alongside being one London's most famous and Instagrammable dining settings. With a dog-friendly outdoors seating area, you might as well try boost your doggo's Instagram following with a few pretty snaps.
For more information on Bluebird Cafe or to scope out the menu, click here.
4. The Edgerton House Hotel – Knightbridge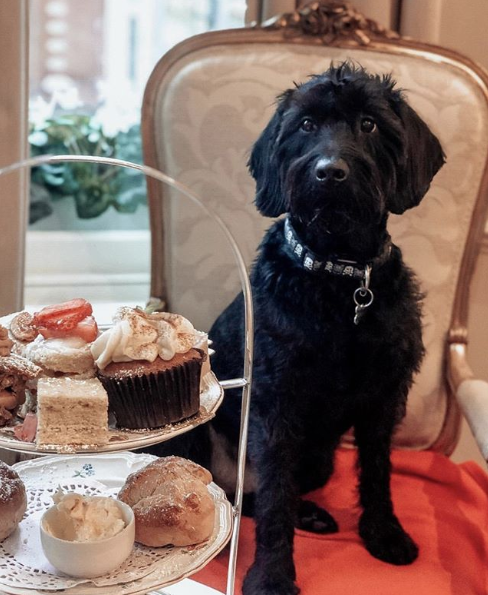 Image: @edgerton_house
What's more British than a traditional afternoon tea? From delicate finger sandwiches to freshly baked scones, enjoy this classic treat of an experience with your pooch by your side. You'll be pleased to know that you won't be dining on your lonesome because they've also created a custom dog afternoon tea menu – complete with chicken and beef meatloaf, doggy ice cream and even pawsecco, for a touch of tail-waggin' class.
See what The Edgerton House Hotel has to offer for a dog-friendly afternoon tea in London here.
5. The Harwood Arms  – Fulham
Image: The Dog Vine
Want to experience award-winning food and wine with your furry mate? Look no further than the Harwood Arms, the only Michelin-starred pub in London where you can fine dine with Fido and friends. With a set-priced lunch and dinner menu, treat yourself the the very best of British culinary fare that focuses on game and wild produce.
Be sure to check out The Harwood Arms with your doggo, more information on this pet-friendly London restaurant here.
6. Sloane Place – Chelsea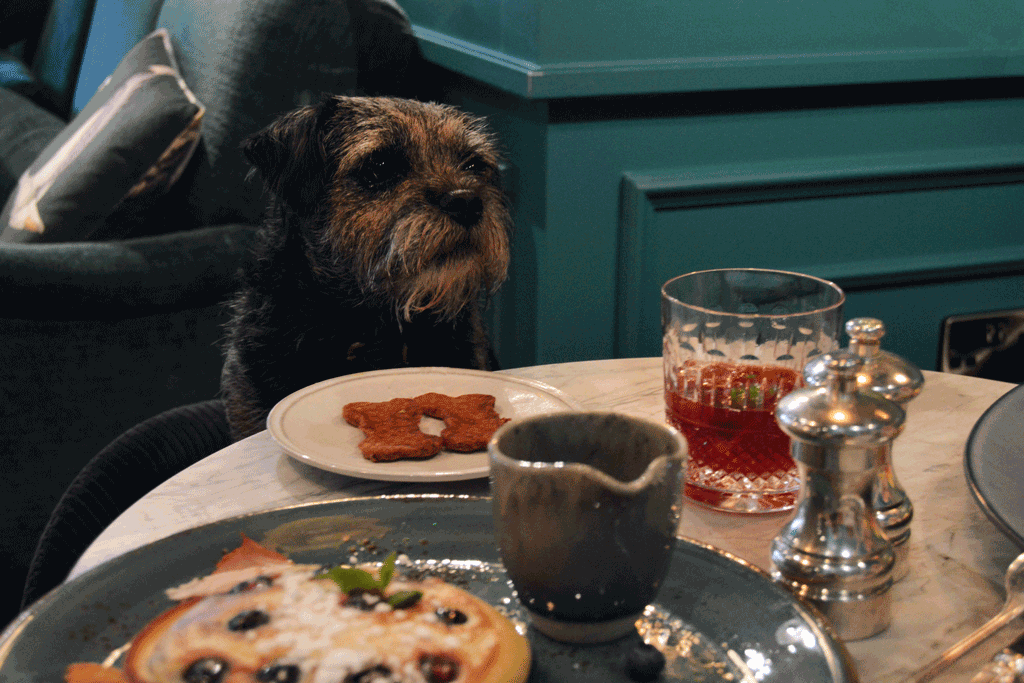 Image: Country and Townhouse UK
A boutique hotel, restaurant and bar, Sloane Place serves up the best in seasonal European dishes. Open from breakfast through to late night cocktails, tuck into some delicious human food while your buddy chows down on dog treats.
Earn yourself some serious pooch points with a date to this dog-friendly restaurant and bar in London, visit Sloane Place's website.
7. The Duck and Rice – Soho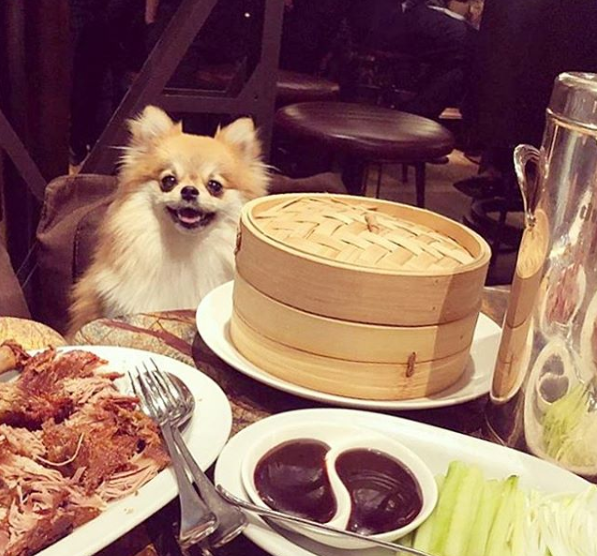 Image: @excusemypom
Have a hankering for some Chinese cuisine? One of the very few pet-friendly Chinese restaurants in London that you'll come across, The Duck and Rice offers mouth-watering comfort Chinese food alongside unpasteurised pilsner beers in copper tanks. Fido will also get to enjoy a generous portion of dog-friendly treats, a bowl of water and most importantly, lots of pats and attention.
Tuck into some dim sum in an eclectic Soho pub, for more information on The Duck and Rice click here.
---
Whether you're in the mood for a quick breakfast fix, traditional high tea or a hearty meal, be sure to check out some of these dog-friendly eateries in London. Planning a trip or relocating to the UK? Don't leave your furry best friend behind. Talk to us about our UK pet transport options today.