Are you a kitty lover that's just moved to Singapore or planning a trip there? If you're experiencing some separation anxiety from your furbaby, you should consider spending some time at a local cat cafe in Singapore to get your cuddle fix. Great for both kids and adults, these cat cafes are sure to get you in a paw-sitive mood with some cat therapy.
Haven't planned your relocation to Singapore yet? Check out our pet transport to Singapore offering.
A-meow-zing Cat Cafes in Singapore
1. Cat Cafe Neko no Niwa – Boat Quay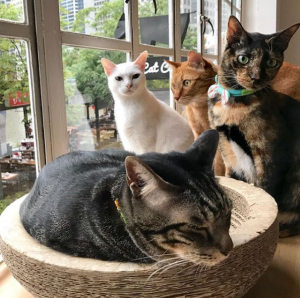 Image: @nekononiwa
Singapore's very first cat cafe, Neko no Niwa is the perfect spot to kick off the list. Owned by cat lovers with over 15 years' of cat care experience behind them, Sam and Sue's cat cafe only adopt cats for their cafe, rather than the usual pedigreed cats. These rescue cats adore human attention, love to play and come with many different personalities. With adorable names like Little Miss Muffet and Kai Kai, there are 13 cats for you to get to know up close and personal at Neko no Niwa.
Cuddle charges start from S$12 per person at Neko no Niwa. For more information, visit their website here.
2. Meomi Cat Cafe – North Bridge Road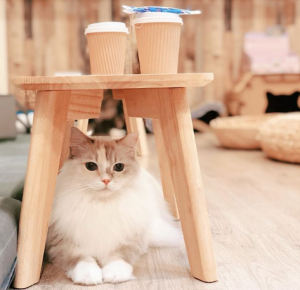 Image: @meomicatcafe
Get your coffee drinking and cat petting multi-tasking skills on at Meomi Cat Cafe in Singapore. With seven furry residents, you can order pastries and beverages while making friends with the feline of your choice. A hidden oasis amongst North Bridge Road's restaurants and cafes, this spacious space aims to "spread the beauty of cats".
Prices start at S$13 for adults at Meomi Cat Cafe. For more information, visit their Facebook page.
3. The Cat Cafe – Victoria Street
Image: @sgcatcafe
If you love stalking cats on instagram or have a camera roll filled with all sorts of feline beauty, The Cat Cafe in Singapore is sure to satisfy your cat obsession. Enjoy coffee, tea and pastries while petting a furry friend and live out your cat lover's dreams. All of the cats at The Cat Cafe are adopted or re-homed strays, so they deserve all the love and attention you've got to give.
Entry price is S$16 and this includes a complimentary soft drink. For more information, visit their website.