At Jetpets, we're so happy to be in the position where we can help our customers transport their furbabies safely and comfortably, wherever that destination might be.
There's many reasons why you might need pet transport including an upcoming relocation for work, getting a new pet, going on holiday (lucky furbaby!), defence move or any other purpose, and we can help you make the experience for you and your furbaby as smooth and stress-free as possible.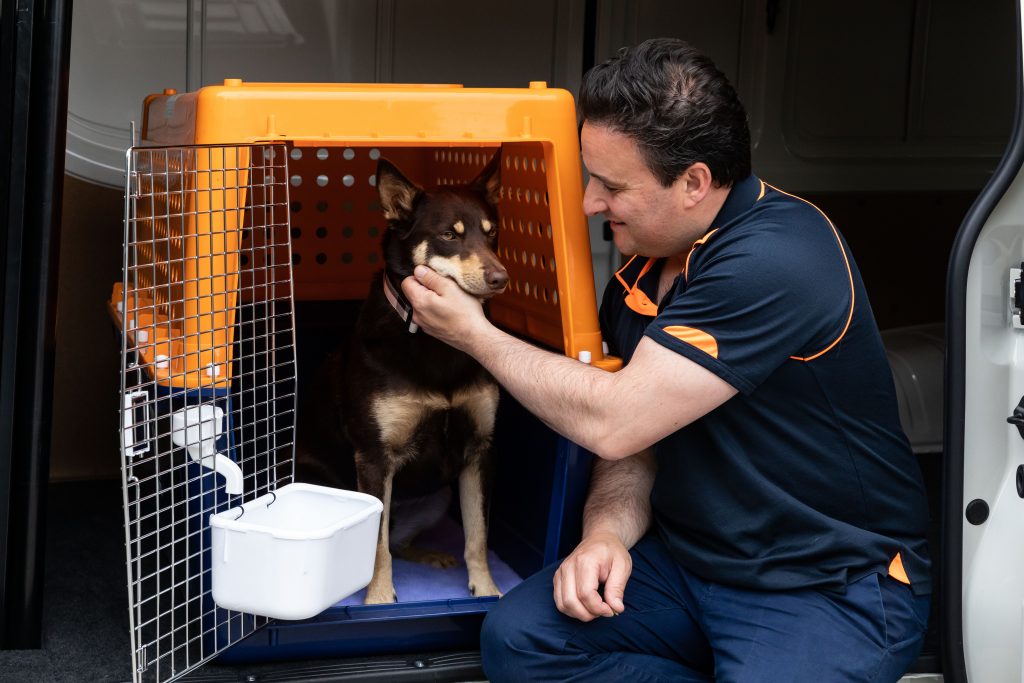 Whether you need interstate pet transport or international pet transport from Australia to New Zealand, United States, United Kingdom, Europe, Asia or anywhere else in the world, you can rest easy knowing that our team offers over 28 years' experience in pet transport to assist you with your pet travel needs.
We've helped to reunite furbabies with their pawrents worldwide
If it's your furbaby's first time travelling, especially if it's for a big trip and you've got lots of other things to organise, we know how pawrents can feel a little nervous and worried – this is totally normal, you're not alone. And that's why Jetpets is here – we're here to help answer all of your questions, talk through the whole process and most importantly, customise a pet travel itinerary that ensures your furbaby's safe journey. The Jetpets team is made up of animal lovers who are all fur parents themselves, so we're here to support you from start to finish.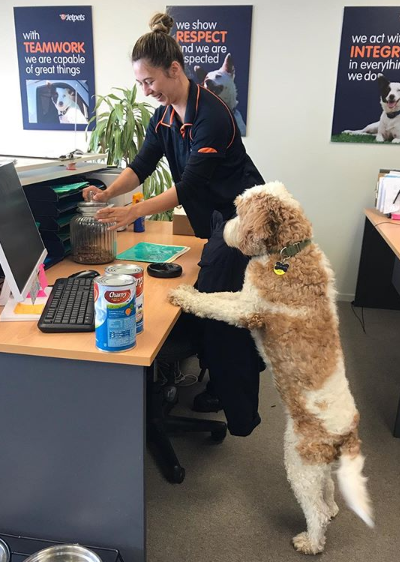 Image: @kajutheminigroodle getting spoilt at our New Zealand HQ, before her trip back to Australia
Just remember that the best thing you can do is to help prepare your four-legged BFF for the trip by doing some crate familiarisation training in the lead up and maintaining a relaxed, calm presence when it's go-time, as pets can be particularly sensitive to the vibes you're giving off. Often times, many of our customers have expressed their surprise and relief when their pet arrives unfazed and just happy to see them.
We're here for you and your furbaby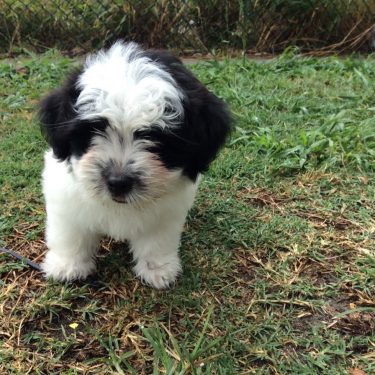 JANUARY 2020
Baylor
Townsville to Adelaide, Australia
Hi Mickayla, I wasn't exactly sure who to write to because so many people at JetPets helped Baylor get to me safely! I was really anxious about him flying to me so young--on the very day he turned 8 weeks! But you were all so amazing. I was so glad that you checked the weather and kept an eye on that for him, and then rearranged the flights to make it a more comfortable journey. And I was surprised myself at the relief I felt when I got the report card from his stopover in Brisbane! It was such a relief to know that he was happy and content--as well as friendly! When I picked him up in Adelaide, he was so chilled and happy--he obviously enjoyed his flight! He licked me all over and knew I was his mum straight away. He's settled into his new home so quickly, and is so delightful. Sorry to be going on so much, but I'm totally in love with him, and I'm so grateful to all of you for looking after him so he could come home! All best wishes, Lesa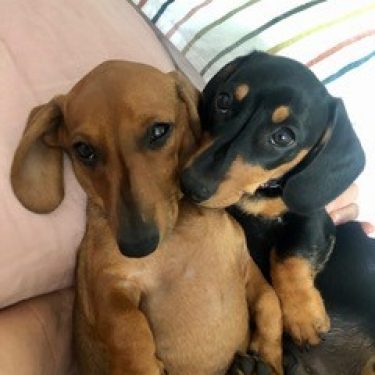 DECEMBER 2019
Wattle & Scooter
Perth to Auckland, New Zealand
Hi Simone, Thank you SO much for all your whole team did to safely and efficiently relocate Wattle and Scooter. I can't rate high enough, the process, the communication, the customer service skills and friendliness of every member of staff that l interacted with over the last 2 months, from my initial phone call with the ladies in Australia (Kaye and Stephanie) to the guy in Auckland who handed them over (Kevin). Just an outstandingly commendable service, you guys rock! Thank you SO SO much. Here are some photos of my husband with Scooter and Wattle in the Jetpets office in Auckland. Merry Christmas too. Cheers, Andrea x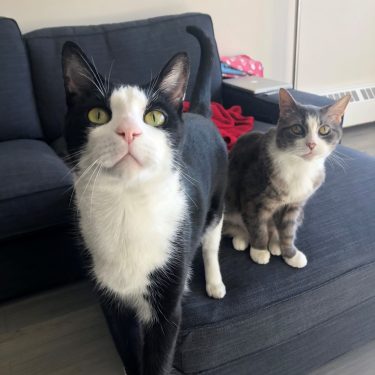 DECEMBER 2019
Jax & Penelope
Sydney to Montreal, Canada
Hi Simone, I wanted to extend a huge thank you to yourself and your team for the amazing service and support both us and our cats, Jax and Penelope received. From the initial planning to pre flight, you and your team were very easy to liaise with and always happy to answer any questions or concerns we had. You made this process very easy for us which was a huge weight off our shoulders. The gentleman who came to collect our two cats was very reassuring and made light of a stressful situation which is just what we needed! The updates we received after the cats were collected were great and helped settle our nerves - and knowing the cats were doing well during the stopover (thanks to the photos) melted our hearts!! When Jax and Penelope were both delivered they were in great spirits and ready for cuddles (even though poor Penelope wet herself at some point so we had to hold cuddles off till she got a lovely shower). Overall I am happy to say the experience and service we received was exceptional and would highly recommend Jetpets to everyone! Thank you again for you amazing service and support - it did not go unnoticed and is highly appreciated!! Please feel free to share this feedback with your team and online should you wish. I have also attached a couple of photos of the happy kittens Thanks again for everything!! Kat and John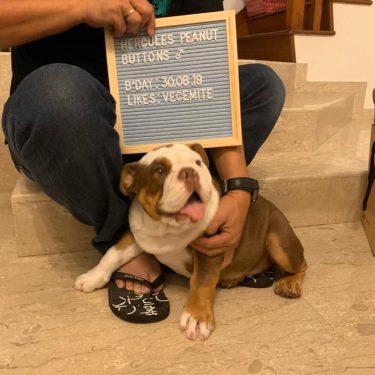 DECEMBER 2019
Hercules
Brisbane to Singapore, Singapore
Hi Kate; Thank you and everyone at Jetpets for your professionalism and handling of Hercules's travel to Singapore. He arrived safely and was still very active despite his long journey. You guys have brought transportation of pets to another level and made the entire process so " hassle free" Once again, Thank you all and would highly recommend your services to anyone that are planning on transporting their pets. Regards Kenneth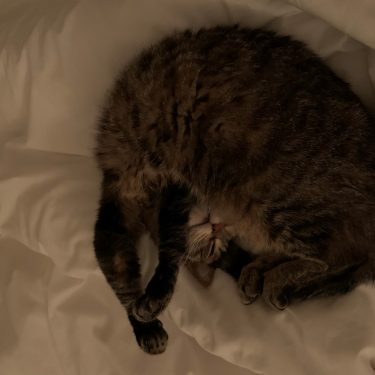 DECEMBER 2019
Poppy
Sydney to London, United Kingdom
Hi Paige Thanks so much for checking in. Poppy is doing well and settling in to life in the UK! I have attached a photo for you to see just how well. Thanks too for taking such good care of her, I expected her to be rattled and not quite herself but obviously you did everything you could so this was not the case. Kind regards Clare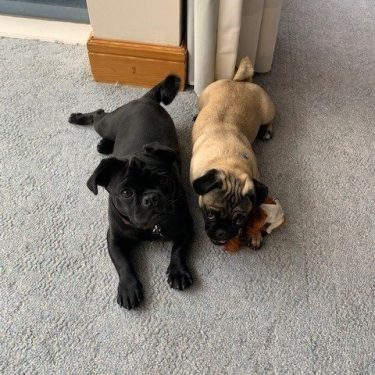 DECEMBER 2019
Lulu & Benji
Sydney to La Paz, Bolivia
Hi Kate, I just wanted to let you know my babies have arrived safe and sound!  I am so incredibly happy!! They are in good spirits and had a nice big meal which they demolished! They were a bit smelly but I guess that is to be expected after so much travelling! Thank you again so much for everything and I will give you and update on how the settle in soon! Kind regards, Penny and Michael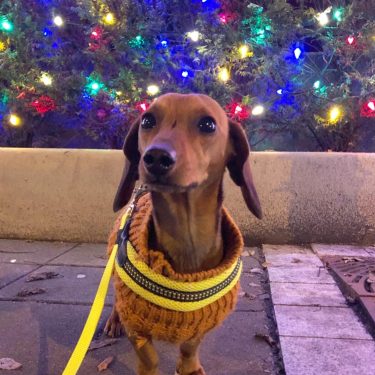 DECEMBER 2019
Nisa
Melbourne to Vancouver, Canada
Hi team, The experience which we've had from end-to-end has been exceptional and I have nothing but praise for Jetpets and the wonderful and professional service provided throughout the whole move from all the staff involved. Keep up the fantastic work and I'll be sure to spread the good word to all my fellow pawrents. Kind regards Kim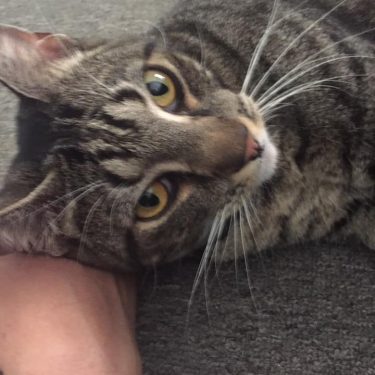 DECEMBER 2019
Torana
Perth to Townsville, Australia
Can not express how happy I am with Jetpets. I have been anxiously waiting for my boy Torana to join me and my daughter. From the very first contact to him arriving today I have had amazing help. He hasn't left my side since he got home. Jetpets thank you so much for everything you have done to make this such a special reunion.