Flat whites, smashed avo, acai bowls…etc, standard Melbourne brekky and brunch fare. The only thing that could make it better is if you could bring Mr Barks-A-Lot or Miss Nap-All-Day along for a sweet weekend date. After a long week at work, we know that you'll want to spend as much time with your favourite four-legged mate as possible.
Well, we've put together some of the most popular dog-friendly cafes in Melbourne for you and Fido to visit. From eastern suburbs to western suburbs, we've made sure that these spots welcome both two-legged and four-legged friends.
Dog-friendly cafes eastern suburbs Melbourne
Shanklin Cafe – Hawthorn East
Google ⭐ rating to date: 4.6/5
Address: 500 Tooronga Rd, Hawthorn East VIC 3123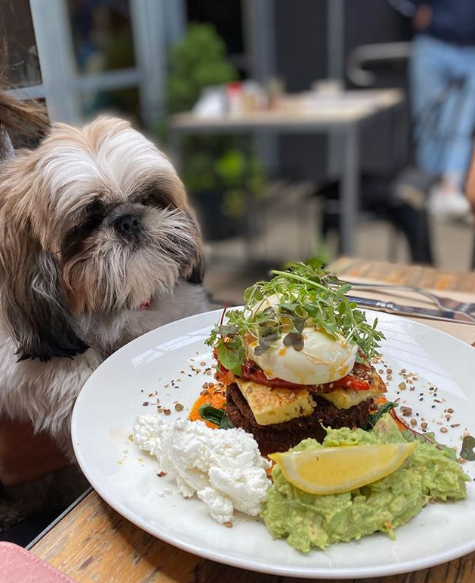 Image: @shanklincafe
The highest rated cafe on Zomato Melbourne, Hawthorn East's Shanklin Cafe is a pet-friendly locality that dishes up insta-worthy all-day brekky and lunch items. From their sinfully delightful Nutella stuffed pancakes to classic options like potato rosti and pork benny, you'll be sure to enjoy a romantic brunch here with your favourite poochikins. Check out their menu here.
Mister + Miss Cafe – Mont Albert
Google ⭐ rating to date: 4.4/5
Address: 711 – 713 Whitehorse Rd, Mont Albert VIC 3127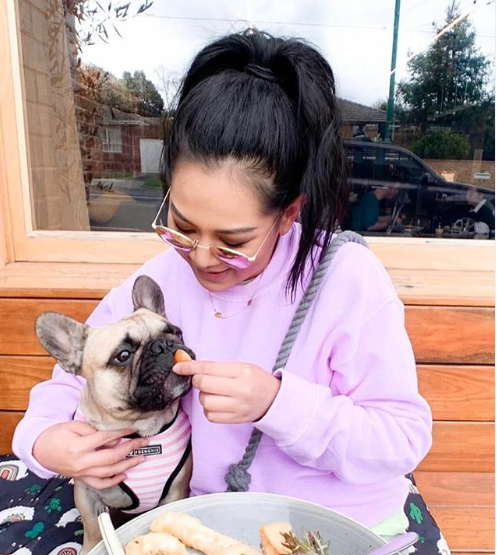 Image: @_misterandmiss_
A massive contemporary warehouse-style cafe with beautiful decor, this Mont Albert establishment welcomes furbabies in their outdoor dining area. With all the party favourites from crushed avo to brekky burgers, Mister and Miss is a weekend must-visit for owners who can't bear to leave their doggos at home. Pre-plan your meal (you know you want to) by checking out their breakfast and lunch menu here.
Enter Neighbour – Camberwell
Google ⭐ rating to date: 4.6/5
Address: 625 Camberwell Rd, Camberwell VIC 3124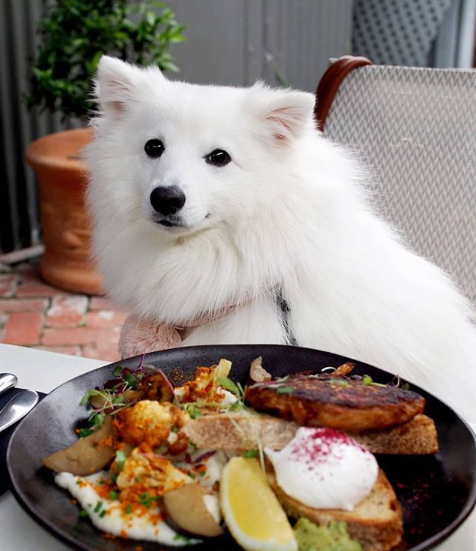 Image: @zomatomelb
Nestled in the heart of Camberwell,  Enter Neighbour has a pet-friendly courtyard where you can enjoy your daily coffee fix by Axil Coffee Roasters and satisfy your food cravings with Fido. With a friendly community feel, this Melbourne pet-friendly cafe offers up a selection of all-day brunch options made from quality and locally sourced ingredients. Plus,  they do a boozy bottomless brunch for those of you that like a drop. You can stalk Enter Neighbour here.
The Dog Cafe – Boronia
Google ⭐ rating to date: 4.5/5
Address: Rear of, 120 Boronia Rd, Boronia VIC 3155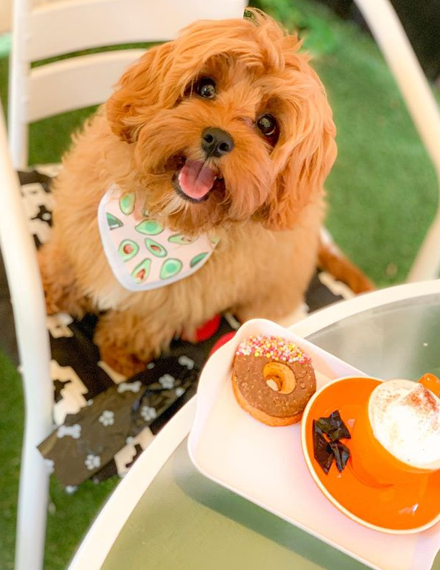 Image: @mrmilo_the_teddybear
Forget pet-friendly cafes, how about a cafe where your pooch is the star? The Dog Cafe boasts a menu of doggie delights that's sure to get your furbaby's tail wagging. From puppacinos to sparkle bones, this adorable dog cafe even hosts special events and parties for lucky pooches! Don't worry, there's a little something for us two-legged folk too. Whether it's your furbaby's birthday or he's just been a super good boy, be sure to visit The Dog Cafe for a fun day out with your doggo BFF.
---
Dog-friendly cafes northern suburbs Melbourne
Dog House – Collingwood
Google ⭐ rating to date: 4.6/5
Address: 195 Johnston St, Collingwood VIC 3066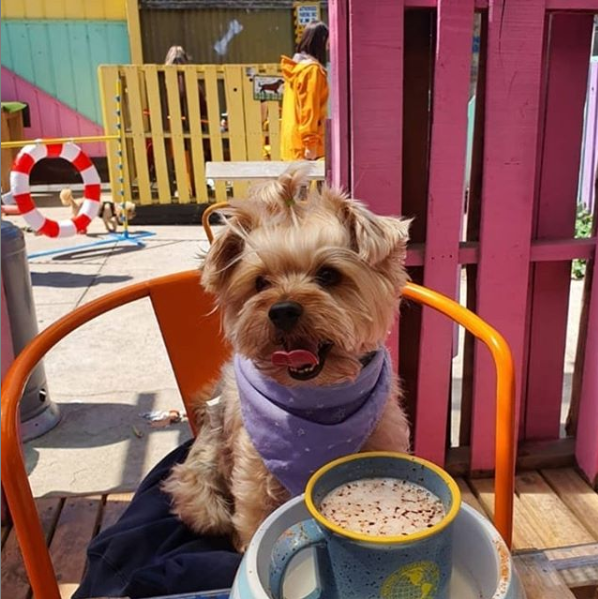 Image: @doghouseaustralia
With a resume feature as Australia's first dog cafe, raw food and dog accessories store, you'll find lucky furbabies flocking to this cute spot in Collingwood for a gourmet, paws-approved feast. P.S. It's also human-friendly, so don't worry. Be sure to visit their Facebook page to fulfill your daily cute-dogs-eating stalking criteria.
Project281 Cafe- Brunswick
Google ⭐ rating to date: 4.5/5
Address: 281 Albert St, Brunswick VIC 3056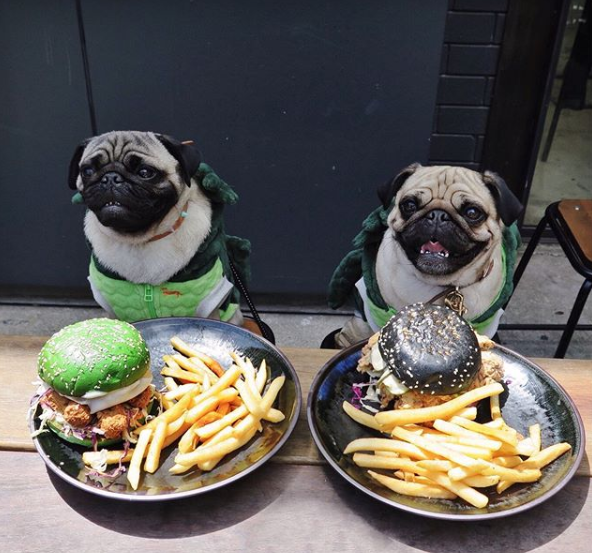 Image: @bacca.chew
Just look at those big squishy-faced smiles then look at those fancy burgers and delicious chips…Could it get any better? Home of the award-winning, house-roasted Founder Coffee, this Brunswick pet-friendly cafe boasts a gorgeous insta-worthy industrial chic feel, spotted with on-trend lush greenery throughout. Serving an all-day menu with breakfast, lunch, coffee, beer, wine and cocktails, there's something for everyone. Learn more about Project281 Cafe here.
The Glass Den – Coburg
Google ⭐ rating to date: 4.2/5
Address: 15 Urquhart St, Coburg VIC 3058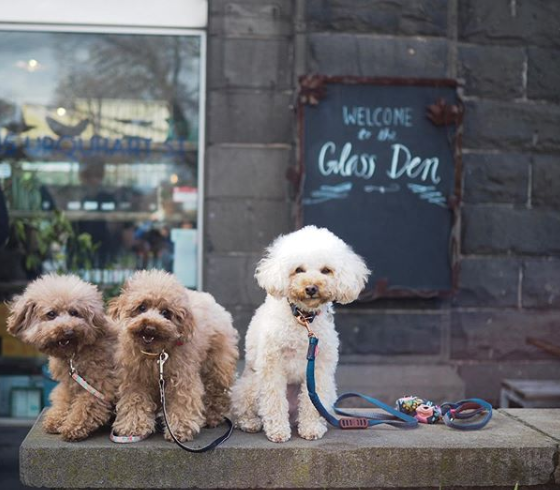 Image: @hellolittlemila
Welcoming dog gangs of all sizes, the Glass Den is an old prison chic cafe with a pooch friendly courtyard. With a modern Asian-fusion menu featuring brunch classics with sweet names like 'Shroom & Kale', 'Charsui Pork Benny' and  'Unicorn hotcakes', we won't blame you (or your fur child) if you're already salivating. Whether you choose to pig out or not, your insta will enjoy the colourful and wonderfully plated food snaps. See it for yourself here.
---
Dog-friendly cafes southern suburbs Melbourne
Temperance Society – Hughesdale
Google ⭐ rating to date: 4.2/5
Address: 127 Kangaroo Rd, Hughesdale VIC 3166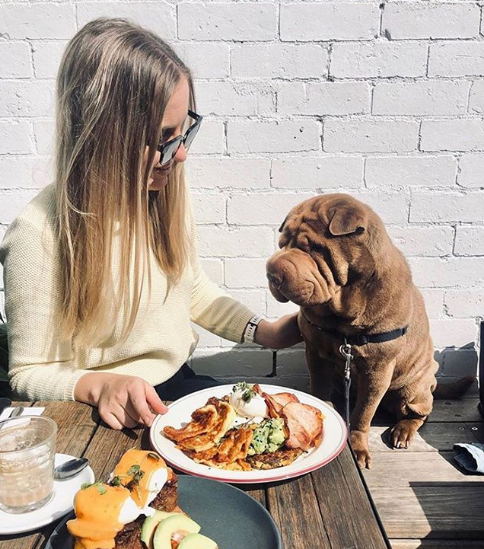 Image: @temperancesociety
From the owners of Legacy Camberwell, Collective Espresso and Miss Frank, is Temperance Society, a pet-friendly eatery in Hughesdale. With a partially sheltered dog-friendly courtyard, this joint offers up health-conscious dishes with raw fruit confetti, brulee yoghurt and more. If you're stuck for choice, the panna cotta is a must try according to the crew. Visualise their menu and whet your appetite here.
Drip Cafe – Cheltenham
Google ⭐ rating to date: 4.6/5
Address: 88 Chesterville Rd, Cheltenham VIC 3192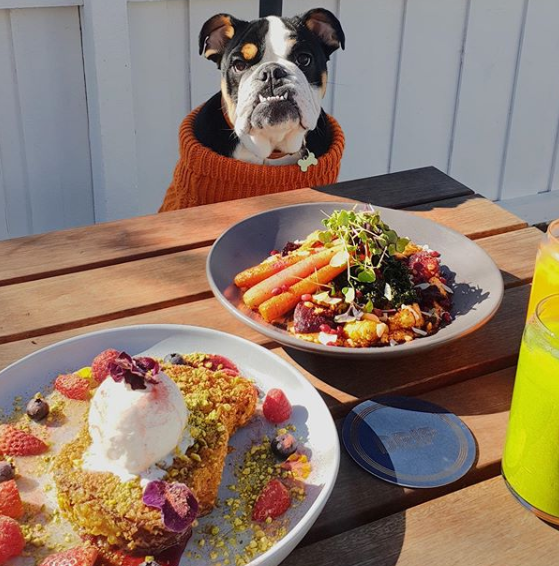 Image: @caesarthepawfessionalfoodie
Serving up locally roasted coffee and brunch favourites with a Middle Eastern flair, the Drip Cafe is a modern and colourful pet-friendly cafe in the southeastern suburbs of Cheltenham. With a sunny outside dining area that's transformed into a covered courtyard over winter, it's perfect for two and four-legged foodies – be sure to try out their most popular menu item, the Knafeh French Toast. See what food and drinks are on offer here.
Left Field – Carnegie
Google ⭐ rating to date: 4.4/5
Address: 358 Koornang Rd, Carnegie VIC 3163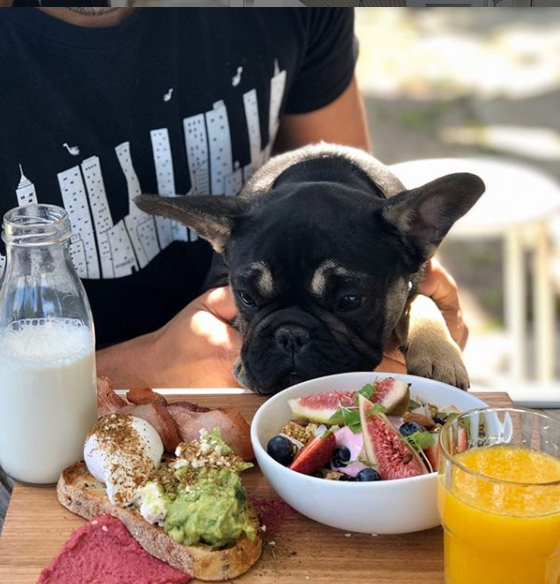 Image: @selma_the_french
An inviting corner-spot cafe in Carnegie, Left Field dishes up fresh and creative all-day breakfast and lunch classics in a pet-friendly atmosphere. With lots of street-side seating and a cosy courtyard in the back, bring your furry BFF along for a house-blend coffee and noms with a Middle Eastern vibe. Check out the menu, location and contact details here.
---
Dog-friendly cafes western suburbs Melbourne
Common Galaxia – Seddon
Google ⭐ rating to date: 4.3/5
Address: 3/130 Victoria St, Seddon VIC 3011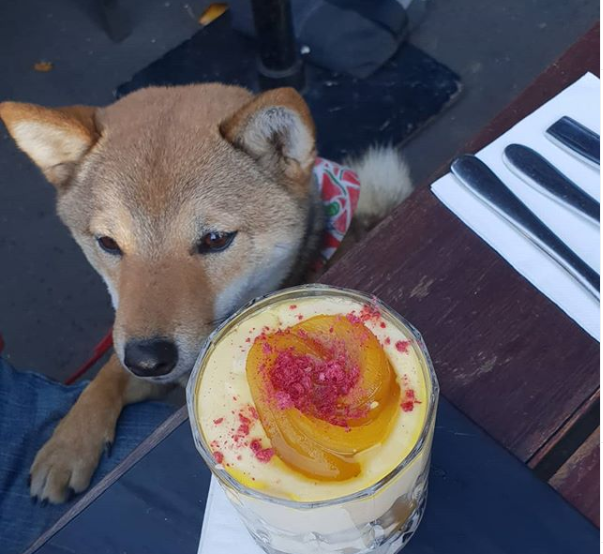 Image: @mini_dodge
Named after the silvery little whitebait found in the nearby Maribyrnong river, Common Galaxia stands out for its excellent Seven Seeds coffee and its gorgeous designer timber interior. Serving all the breakfast and lunch staples, sourced from local ingredients, Common Galaxia also has an outdoors seating area for owners that want to bring their pup along.  Have a squizz here.
Lisica Cafe – Maribyrnong
Google ⭐ rating to date: 4.8/5
Address: Shop 6&7/45 Edgewater Blvd, Maribyrnong VIC 3032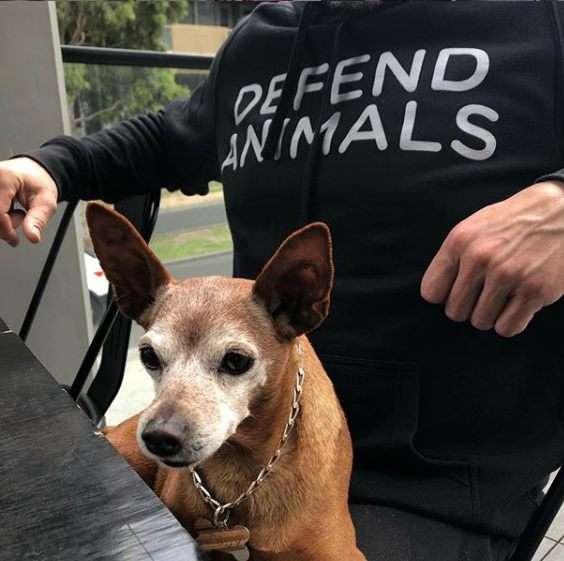 Image: @the.dreaded.vegan
A complete vegetarian and vegan cafe, Lisica Cafe serves up plant-based mouth-watering creations in the inner west. From blue spirulina smoothies to crispy "chicken" burgers and chocolate pancakes, Lisica Cafe certainly hits the mark amongst the locals. Feel free to bring your doggo mate along to this bright and buzzy spot. Get your 2020 health goals on track and see what's on the menu here.
Kodama Coffee – Williamstown
Google ⭐ rating to date: 4.6/5
Address: 69-71 Stevedore St, Williamstown VIC 3016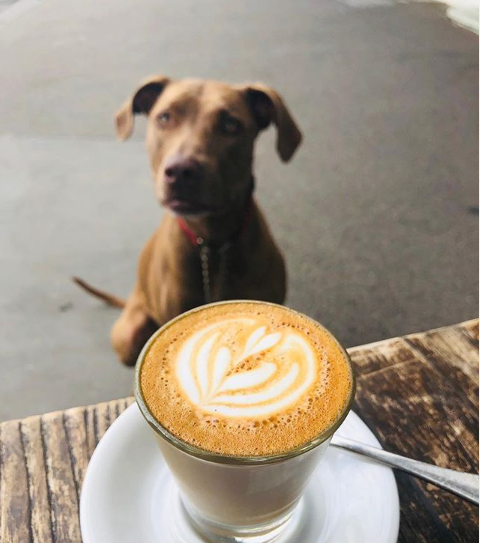 Image: @davidlatimore
Housed in a modern Japanese minimalist aesthetic interior with gorgeous wooden finishes and an adorable collection of 'kodamas' hanging on the walls, this west-side gem has pet-friendly outdoor seating. With an all-day menu offering Japanese inspired dishes, baked goodies and quality coffee blends, Kodama Coffee is a worthwhile weekend visit for you and Fido. Check it out here.
---
Dog-friendly cafes Mornington Peninsula
Miss Drew's Bakery & Dog Cafe – Tyabb
Google ⭐ rating to date: 4.9/5
Address: 14 Mornington-Tyabb Rd, Tyabb VIC 3913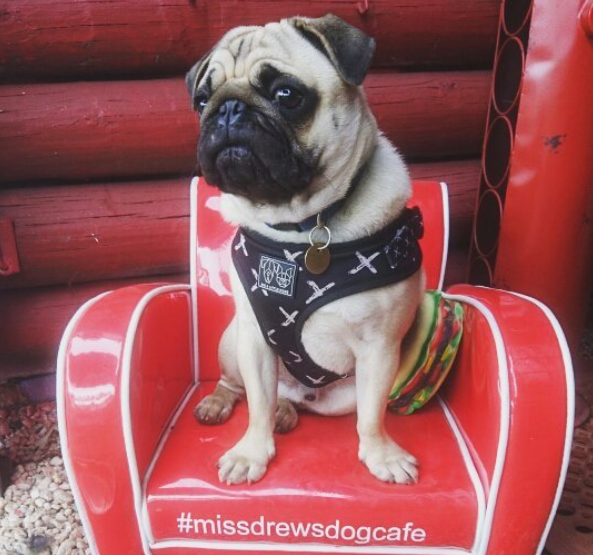 Image: @hellocrumpet_thepug
Located out the back of the Tyabb Packing House Antiques complex, you can spoil your pooch at Miss Drew's Bakery & Dog Cafe. Another human-friendly cafe where doggos are the VIP guests, this gorgeous little spot offers freshly baked treats sourced from local, Australian human-grade ingredients and produce. All meals have been taste tested by Miss Drew the pug so we're sure your furry friend will be licking their bowls clean! See what goodies are on the menu here.
The Bottle of Milk – Lorne
Google ⭐ rating to date: 4.3/5
Address: 52 Mountjoy Parade, Lorne VIC 3232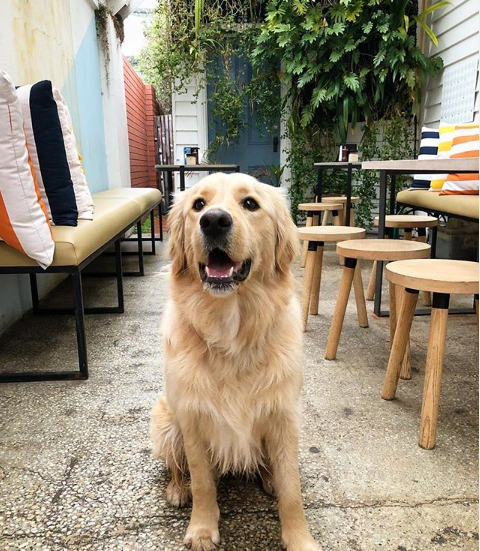 Image: @reggie_muddypaws
Situated on the busy strip of Mountjoy Parade and right across from the beach, The Bottle of Milk is Lorne's famous breakfast and burger joint. With its outdoor courtyard and streetside table, you and your pup can enjoy a post-surf feed here and leave with happy bellies. Popular amongst locals and tourists, you can find them here.
Mercetta – Mornington
Google ⭐ rating to date: 4.4/5
Address: 115 Main St, Mornington VIC 3931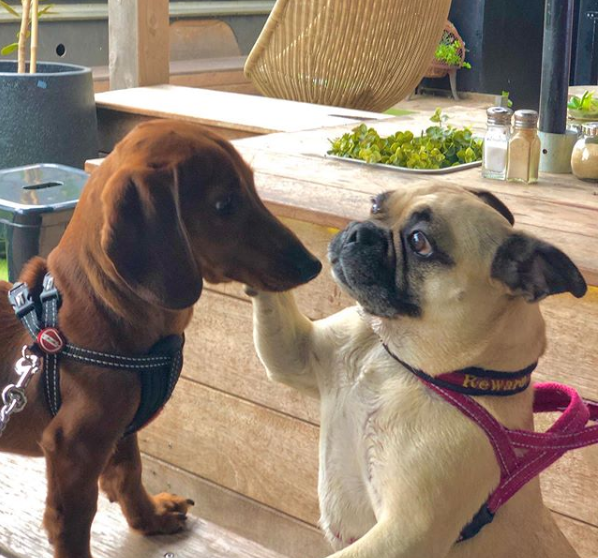 Image: @ollytheminidoxie
A modern family-friendly space that seats up to 200, Mercetta has both an all-day menu for humans AND a pooch-friendly menu. From ham hock benedict to buddha bowls and Vietnamese chicken noodle salad, even the fussiest of eaters will find something on the menu to chow down on. If you're feeling a little naughty, put off your New Year's resolutions and try out the signature Mercetta hot chocolate that comes with a pretty crown of persian fairy floss. See what's on here.