From spacious, dog-friendly outdoor seating to doggy treat menus, there's a plethora of dog-friendly cafes in Perth for you and Fido to visit on a lazy weekend. Great spots for your well-behaved pup to socialise with other furry friends while you sip on your latte and tuck into delish brekky or brunch treats, these adorable cafes are welcoming to both humans and their fur friends.
In no particular order, we've listed 10 furbaby-friendly eateries around Perth for you to explore below. Plus cute snaps of doggos insitu!
Discover 10 of Perth's Dog-Friendly Cafes
FurBaby Cafe
Google ⭐ rating to date: 4.7/5
Address: 29/386 Wanneroo Rd, Westminster WA 6061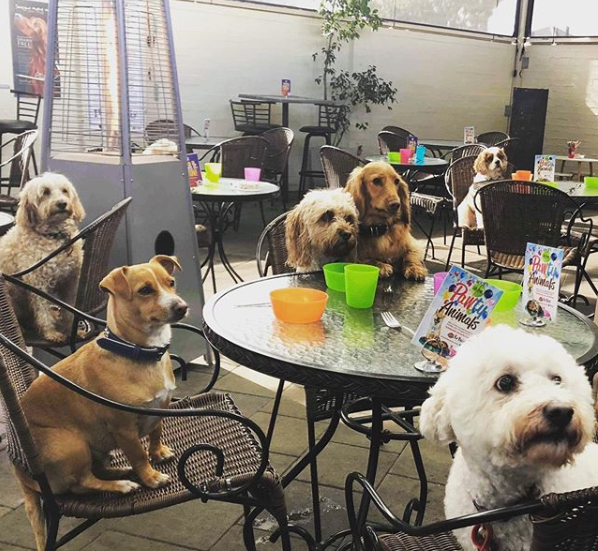 Image: @furbabycafe
What better way to start off our list of Perth's dog-friendly cafes than with one that is truly dog-friendly, complete with a dog treat barkery, pamper salon and doggy daycare? Aptly named the FurBaby Cafe, this adorable spot is located in the northern suburbs of Perth at Westminster where your pup can enjoy doggy treats like "Bark-A-Sundae" and "Dog Beer" while you chow down on your human-friendly brunch item of choice. They even host birthday parties for dogs that like to paw-ty!
Check out what's on offer for you and Fido at the FurBaby website.
---
Slate Cafe
Google ⭐ rating to date: 4.3/5
Address: 12 Dulwich St, Bennett Springs WA 6063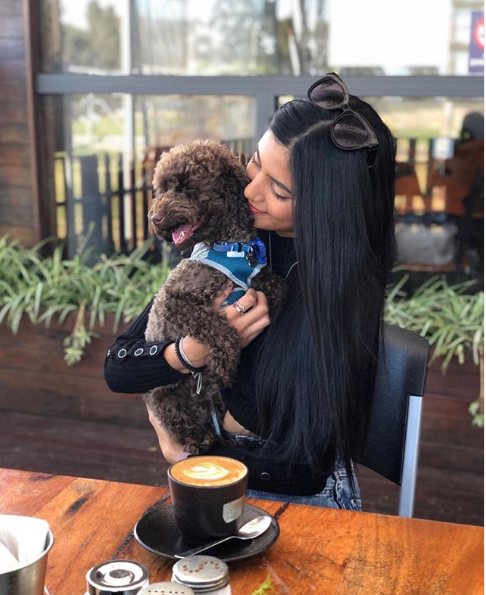 Image: @nikitakoriyama
Kid friendly, paw friendly and family friendly, Slate Cafe is just 20 minutes from the CBD and a dog-friendly cafe in Perth that's not to be missed. Rated by Jetstar as one of Australia's most inst-worthy cafes, Slate Cafe dishes up mouthwatering brekky and lunch options alongside puppacinos for your furbaby, in a contemporary rustic setting. They even host breed-specific playdates at their enclosed doggie playground on weekends where your pup can meet and play with their brother or sister-from-another-mother!
Don't miss out on the next play date by following their Instagram @slatecafe or view their delicious menu here.
---
Yelo Trigg
Google ⭐ rating to date: 4.4/5
Address: 331 W Coast Dr, Trigg WA 6029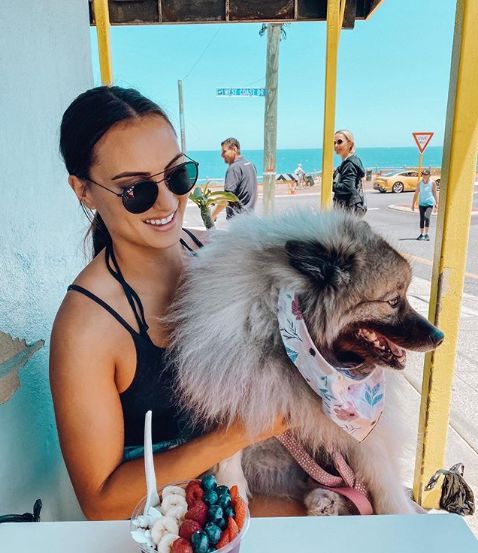 Image: @jojomareewilcox
An adorable little beachfront cafe with plenty of space for furbabies out front, Yelo Trigg is a bustling spot for locals and dogs that enjoy overlooking the beach while tucking into a good selection of fresh and healthy sandwiches, snacks and smoothies – plus excellent coffee from Fiori, an award-winning WA roasting company. Whether you're popping by pre or post-surf, Yelo Trigg has a casual, relaxed atmosphere for you and your fur kid to take in the ocean views.
Open everyday from 6am to 6pm, stalk their instagram @yelotrigg.
---
Rise & Grind Espresso Bar
Google ⭐ rating to date: 4.3/5
Address: 255A Scarborough Beach Rd, Doubleview WA 6018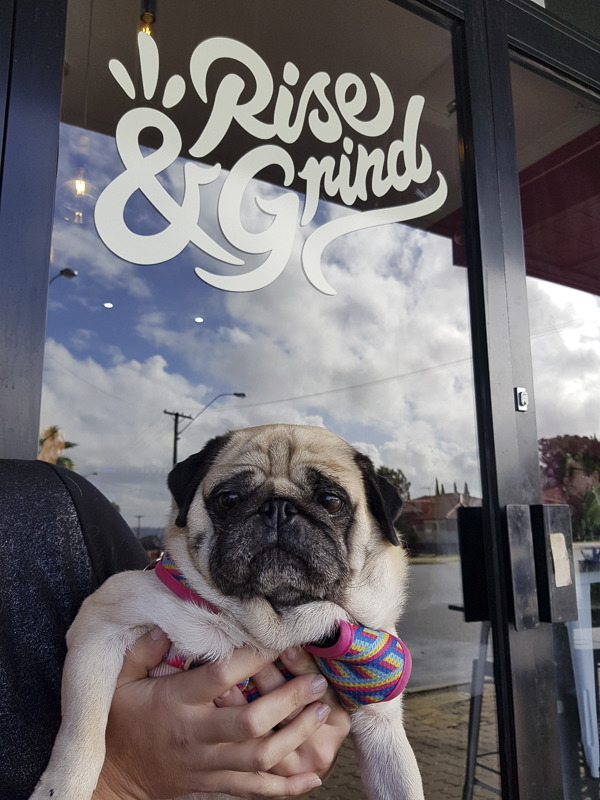 Image: The Pug Diary
Serving up Perth's award-winning Pound coffee daily alongside an indulgent menu all prepared in-house, Rise & Grind Espresso Bar has delightfully healthy and deliciously naughty sweet treats to suit every customer. From sinful loaded shakes to vegan treats, Rise & Grind has outdoor seating for you, puggo and friends.
Tantalise your taste buds by viewing Rise & Grind Espresso Bar's latest posts on their Facebook page.
---
The Kiosk Floreat Beach
Google ⭐ rating to date: 4.1/5
Address: Challenger Parade, City Beach WA 6015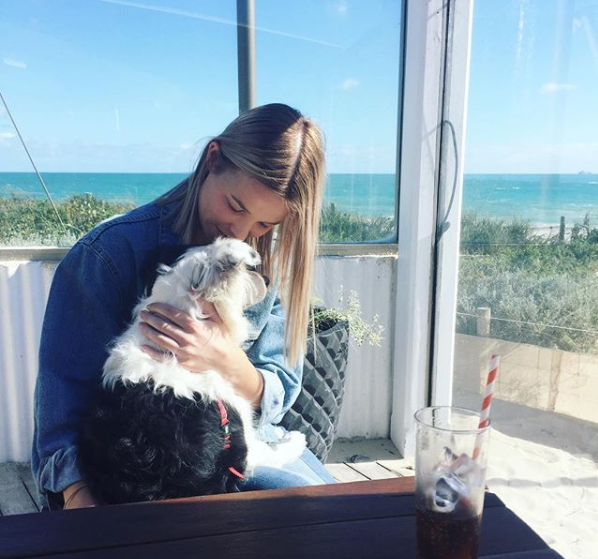 Image: @cyndi.elle
From brekkie, burgers, crab linguine to the kiosk healthy bowl, The Kiosk is all about the beach lifestyle, dishing up tasty fare and good vibes. Right by the beach, the alfresco dining area overlooks the ocean where you and Fido can ponder on the miracle of life together.
See what's on the The Kiosk menu here.
---
Little Stove
Google ⭐ rating to date: 4.4/5
Address: Shop 97/103 Harris St, Bicton WA 6157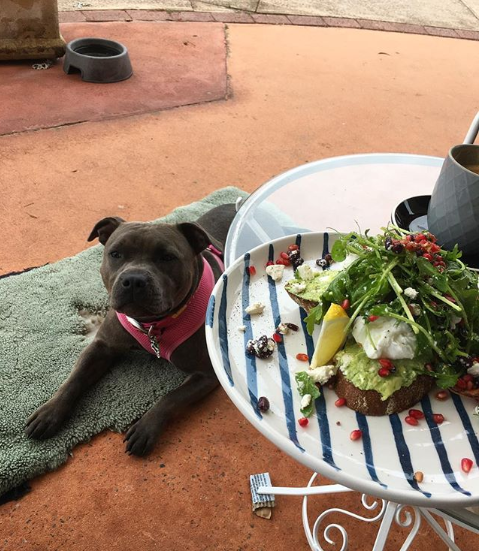 Image: @little_luna_16
With a beautiful community feel where everyone belongs, include four-legged friends, Little Stove focuses on cooking good food using fresh and local produce. An antique-themed space in Bicton, this Perth dog-friendly cafes has dog bowls outside as well as dog treats and trinkets at the counter – a lovely space for brunch with your furry BFF.
Keep up to date with the latest events and offerings at Little Stove via their Facebook page.
---
Babylon Cafe
Google ⭐ rating to date: 4.7/5
Address: 656 Newcastle St, Leederville WA 6007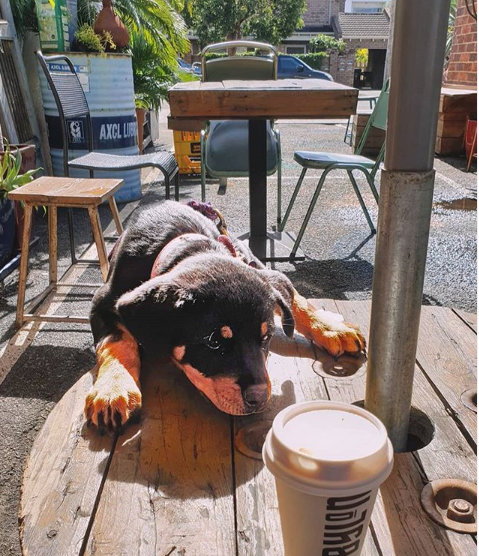 Image: @nyx_rottiegirl
Colourful and fun with retro vibes, Babylon Cafe has outdoor seating for humans and fur friends. Named after a Bob Marley album, it's a well-hidden establishment in Leederville but their simple home-made menu and quality coffee is well worth the hunt. According to Google Reviews, their coffee is just "heaven that comes in a mug", a verified crowd pleaser amongst coffee snobs – so be sure to come along to this eclectic spot with your pup!
View the @babylon_cafe Instagram.
---
2 Green Fingers
Google ⭐ rating to date: 4.5/5
Address: 96 Bawdan St, Willagee WA 6156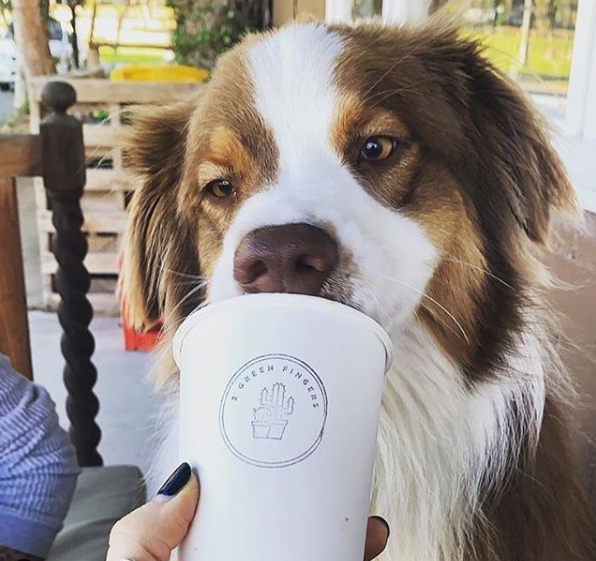 Image: @pupsy.team
A dog lover's haven, this spacious Willagee dog-friendly cafe has natural dog treats for your pup and delicious treats for humans too. With its shabby chic interior and mismatched array of furniture, 2 Green Fingers dishes up specialty coffee and holistic, homemade plant-based and vegan meals in a casual, relaxed environment.
See what's happening at 2 Green Fingers on their Facebook page.
Steam Haus
Google ⭐ rating to date: 4.7/5
Address: 206B Whatley Cres, Maylands WA 6051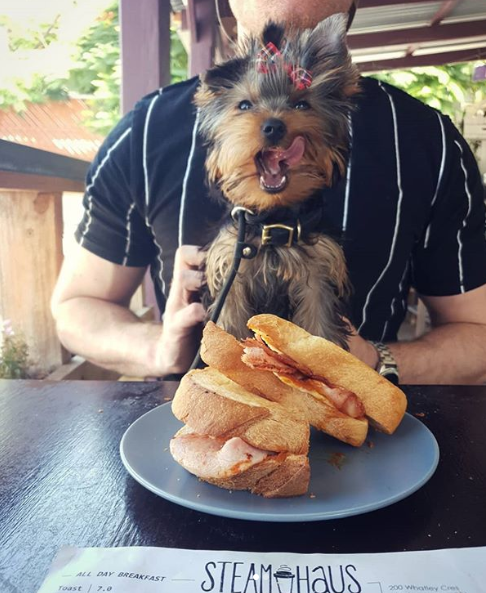 Image: @kenzo.yorkie
Located in an old house across from Mayland train station, Steam Haus has a cosy sheltered veranda for pawrents and fur children. With a wonderful all-day breakfast for humans, the staff loving having pooch patrons and also sell dog treats with all proceeds going to the Greyhound Rescue organisation.
For more information on what Steam Haus has to offer, visit their Facebook page.
---
BOOespresso
Google ⭐ rating to date: 4.6/5
Address: 49 Stuart St, Perth WA 6000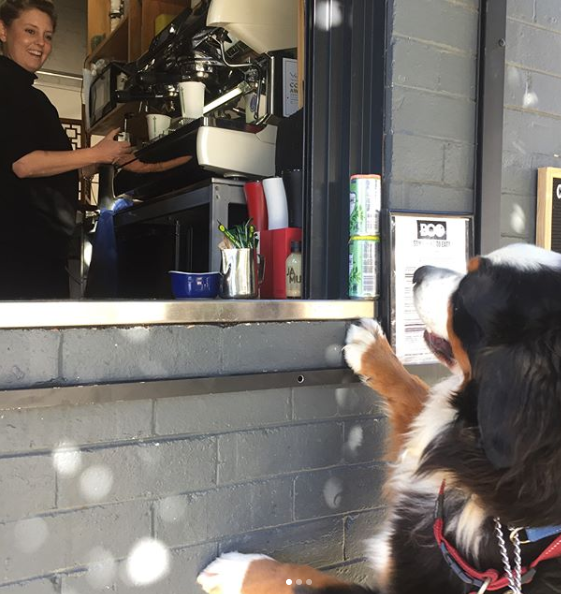 Image: @jake_hugo_keiko
A hole-in-the-wall micro cafe, both you and Fido can grab your coffee fix at BOOespresso. With a dog-friendly park just opposite, pamper your furbaby with a small or large puppacino as well as dog treats, after burning off some energy at the park. Serving up light eats and excellent coffee for humans, BOOespresso has garnered quite the furry following. From the same owner, you can also check out BOOtoo which offers all-day brunch and night-time pizza.
Start the weekend right with BOOespresso – check out their Facebook page.