It's the most wonderful time of the year! Christmas is on its way, and it's a great time to have fun with the whole family (including our furry friends!)
No matter what your plans are for the festive season, it's important to involve your pets in the Christmas celebrations to ensure they have a memorable holiday as well!
Read on for some great ideas on how you can include your pets in Christmas celebrations. 
Check out the Christmas Lights:
Let's be honest, most dogs enjoy Christmas decorations and lights as much as we do – so why not take your furry friend for a walk around the neighbourhood to check out the local displays?
Take Photos With Them:
This has to be one of our favourite ideas! Ask a friend to be your photographer (or hire one if you like!) and take a family portrait with all your of furry friends. Add a Santa hat to the top of your dog's head or tie a cute (but loose) red bow around your cat. Have one of your family members hold the animals and smile!
Customise Your Christmas Cards:
Now that you have some amazing happy snaps of your pets, why not use them to create customised Christmas cards? Not only will they look seriously cute, your friends and family are sure to love receiving them.
Buy Them Gifts:
Gifts shouldn't just be for humans! Pets are part of your family too so treat them to a special gift you know they will just love. Get a stocking or wrap up a few presents and place them under the tree for you to open with them on Christmas morning. Gift ideas could be toys, treats or snacks or even a new outfit! If you want to, you can splurge on something big that your pet needs or 'wants', like a new kennel or comfortable bed to welcome the New Year in.
Make Them A Delicious Treat:
A huge part of the Christmas season is sharing delicious food with family and friends. Include your pets in this tradition by cooking up some pet friendly treats they will be thrilled to eat. Cheesy bites, tuna treats or cookies are fun options, so they can feast while you do too! Make sure you cook animal friendly recipes to ensure you don't feed them anything they shouldn't be eating.
Here are some fun DIY ideas:
Dogs: Put some dry food or small treat pieces with a tiny pinch of fresh cinnamon into cardboard containers (you could even use empty toilet paper or paper towel rolls and plug each end tightly.) When your dog plays with the roll, he will smell the cinnamon, hear the dry food rattling around inside and eat his way through to get inside.
Cats: For a simple DIY holiday cat scratcher toy, take an old Christmas stocking made of a heavy duty scratchable material, cut it to open up flat, then wrap it around a piece of wood securing it tightly with twine or using a staple gun. Or – you could use a round piece of wood to create a rolling toy that your kitty will have to chase after.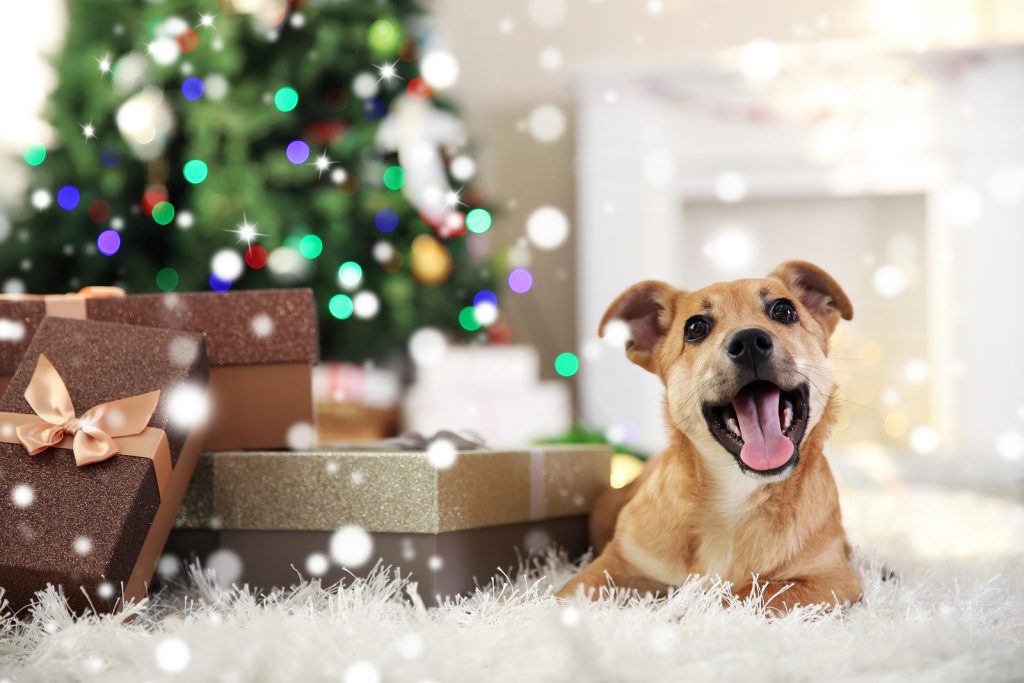 Do you have any holiday or Christmas traditions that involve your pets? Pop over to our Facebook page and let us know!