Pet Travel Updates
Whether your pet is travelling interstate or overseas, the team at Jetpets knows that it can be an exciting yet anxious time being separated from your fur-baby. We try our very best to make your pet travel experience completely stress-free by providing you with updates along the way, keeping you in the loop with where your pet is during their travel journey and how they are doing.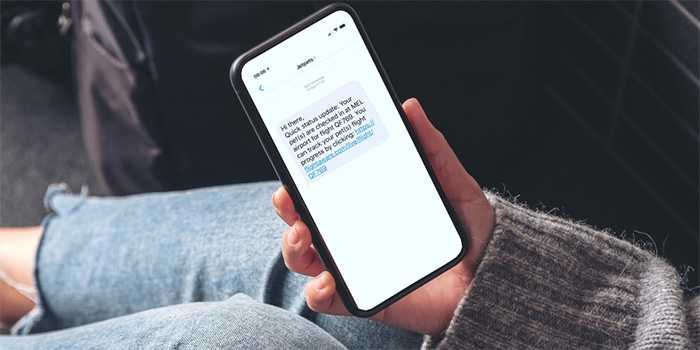 Progress updates on your pet
Jetpets sends out a variety of pet updates, dependent on if it's a domestic or international trip and whether they'll be travelling via our transit lounges located Australia-wide, in Melbourne, Sydney, Brisbane and Perth.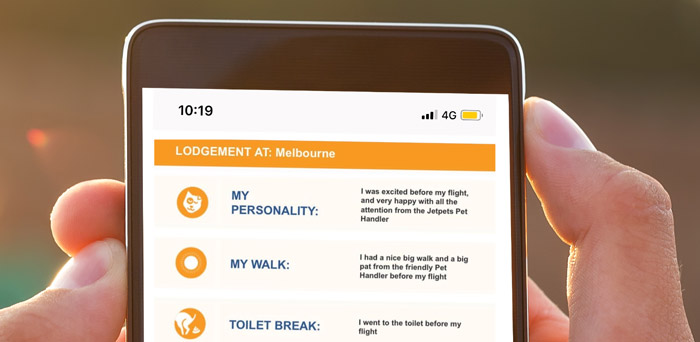 The types of updates you can expect is dependent on your pet's personalised travel itinerary, and may be sent via SMS and/or email.
These updates may include*:
Check in at the airport
Collection from the airport
Drop-off at pet accommodation
How your pet was during their comfort stop
Confirmation of health clearance for international travellers
*Pet travel updates are applicable when the pet is travelling via a Jetpets transit lounge location, and where the itinerary is for a transit lounge or door-to-door service.
And before you know it, your beloved pet will be back for lots of cuddles and kisses, in your arms again, ready to start their new adventure with you wherever you may be!
Feedback from Jetpets Happy Travellers
APRIL 2019
Bob
Canberra to Toronto, Canada
Thank you so much for the regular updates on Bob while he was travelling.  He's settling into his new home now in Canada and catching up on some sleep and treats!  We appreciate so much your service and caring in what was very stressful for us...it made it much easier to know that you would be tracking him, and updating us often along the way.  Thank you again.  We will certainly be recommending Jetpets to others in the future. Yours in Yoga, Heather.
MARCH 2019
Tito
Perth to Christchurch, New Zealand
Hi Biljana, Tito is settling into his new home really well, thank you so much for all of the updates provided along the way. Thanks again so much for everyone's assistance during this process. As I wasn't able to travel with tito my heart was broken but it was great to have photo updates. Made himself at home day one.
MARCH 2019
Poe
Australia to , New Zealand
Hi Danielle and Aleesha, Thankyou Jetpets for delivering our girl Poe safe and sound to New Zealand. I really appreciated the updates while Poe was travelling over the 4 days. I would not hesitate to recommend Jet Pets for relocating and taking care of much loved Pets Thankyou White Family *photo of Poe at home today 4th day in NZ settling in well
MARCH 2019
Thomas
Sydney to Auckland , New Zealand
Justin everything was awesome. My partner and I are so happy and impressed with JetPets high level of service, standards and communication. Justin our first contact was amazing. Thank you so much for all of your help and encouragement, it means a lot. Melanie, thank you for being so responsive & helpful and always helping sure we had the right info and got booked on the right flight together. To everyone else; the Handlers, the vets and the office and admin staff, you blew us away with your attentiveness, live updates, photos & info our dogs wellbeing. You all cared the whole time from the first call to the updates right before our dogs flight. Thank you so much from both of us and from our happy boy Thomas! Cheers, Jonathan & Amie
JANUARY 2019
Bobbie
to Toronto , Canada
Hi Kaye, We now have Bobbie in Toronto with us and she appears to be happy and healthy. She was extremely excited when we got to pick her up this afternoon. I would like to thank Justin for his help in all the process and for his updates last Friday with how Bobbie was going with boarding etc. Thanks for getting our girl safely to us in Toronto. Warmest regards, Hollie, Adam & Bobbie
See more Customer Feedback