International Pet Transport to England
Complete door-to-door pet transport service to the United Kingdom
With an experienced in-house team of pet travel consultants, resident vets and pet handlers, Jetpets is the pet transport company you can trust to have your fur baby transported safely from Australia to the UK. We can provide a complete door-to-door transport service to all destinations, including but not limited to London, Manchester and Glasgow.
Whether your pet is a dog, cat, bird, rabbit or any other animal, you can rest assured that your pet's comfort, safety and welfare is our number one priority. For the best overseas pet travel to the United Kingdom, make sure you choose the friendly team at Jetpets.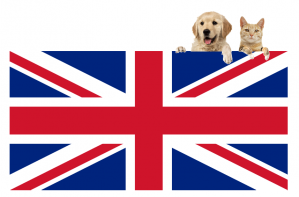 Customer Feedback:
APRIL 2019
Sophie
Canberra to London, United Kingdom
I am so, so happy with the service provided to me by Jetpets and Justin who guided me through the process of Sophie's relocation. As a pet mummy who has never done anything like this before I was worried about Soph (she is a bit of a Diva and likes things just so) and how she would travel but she is an absolute star and has taken it all in her stride. I did do a little research before I chose Jetpets for Sophie and everyone I spoke with recommended your company. Now I understand why - your reputation as being the best in this field is well deserved, from the inquiry call right through to collecting Soph at our destination. Brilliant service and communication from the start. Warmest regards Michelle & Sophie
JANUARY 2019
Luna
Australia to London, England
Hi Melanie, Thanks for the email, Luna has arrived safe and sound. She's settled in well and is happily exploring her new home. Thank you to you and the Jetpets team for all your assistance and professionalism! Cheers, Winora
NOVEMBER 2018
Jeff
Australia to London, England
Hi Rachael, I just wanted to get in touch to let you know that Jeff is finally settling in to his new life in London. He's very cold but very happy. Thank you again for being so amazing and answering my endless stream of questions over the last few months. From the first time I contacted Jetpets I was impressed with the service and have already recommended to friends who have asked. Thank you again for making sure our family was safely reunited, I've attached a few photos of Jeff's journey from start to finish 🙂
AUGUST 2018
Gerald
Adelaide to London, England
Hi Justin, Our Jetpets experience was excellent, and we are extremely grateful. Thank-you so much for keeping Gerald safe. Kindest regards, Mike
JULY 2018
George
Australia to London, England
Taken on his day of arrival. Honestly the process was so simple and George has settled into life here so well I am happy to recommend the service to any traveller. Thanks again Rachael
Let us organise your UK pet travel needs – you won't have to lift a finger!
Our Pet Travel Consultants:
Find out all about your pet. Regardless of whether your pet is a dog, cat, rabbit or guinea pig they are all treated as VIPs – very important pets!
Provide expert advice on preparing your pet for international travel, covering UK's quarantine and customs requirements
Help you decide on the best airline-approved travel crate to ensure your pet travels comfortably, including a stay dry fleece mat
Arrange for your pet's travel crate to be delivered to your home prior to your relocation – this is a great time to help familiarise your pet with their travel crate
Book your pet on the most direct flight to the UK
Arrange a comfort stop along the way
Can arrange a door-to-door pet transport service, from your home in Australia to your new residence in the United Kingdom
Prepare your pet's personalised itinerary
Contact us via our 24-hour customer service line should any concerns or questions pop up
Can even take care of your flight to match your pet's itinerary through Jetaway travel
Our Resident Vets:
Specialise in international pet travel and can provide all animals with the correct treatments they need to travel to the UK
Will ensure all documents and treatments for overseas travel are completed accurately for a hassle-free relocation
Can come and visit you at home as a complimentary part of our service (state dependent)
Will give your pet a health check at our Jetpets Transit Lounge prior to their flight
Our Pet Handlers:
Can personally come to your house and professionally fit your pet to the perfect sized crate (in metropolitan areas) prior to your pet's trip to the UK
Will take care of your pet on the day of travel, showering them with plenty of love, attention and walks
Check your pet in for their flight at the airport, ensuring they have been to the toilet and have plenty of water available for a comfortable flight
Will provide pet updates to keep you informed how their journey is progressing
Our Pet Transit Lounges:
Jetpets Transit Lounges allow for priority pet check-in
Are conveniently located near major airports in Melbourne, Sydney, Brisbane and Perth so you don't have to deal with airport traffic
Your pet will be able to have a stretch and relax out of their travel crate before and/or after their flight
Provide peace of mind knowing your pet will be taken care of if their flight is delayed or cancelled
Our resident vets are located at our pet transit lounges to ensure your pet is fit to fly
Did you know?
The captain of the aircraft is aware that your loved one is on board their flight
The captain will set the temperature to approx. 18 degrees Celsius so that the animals are comfortable
The cabin is dimly lit so that your loved one can see what is going on around them
What we feel and hear in the cabin of the plane is the same as what animals experience (except in a travel crate they have much more leg room than us!)
Behind the Scenes at the Airport
How Pet Travel Works: Overseas
Gallery