International Pet Transport to USA
Are you and your family moving to the United States? At Jetpets, we set the highest standards of care when it comes to overseas pet travel with our in-house team of pet travel consultants, resident vets and pet handlers – no fur baby gets left behind! As Australia's leading pet transportation company, we can provide a complete door-to-door pet transport service to any USA destination – North America, South America and Central America. Popular destinations include but are not limited to Canada, Los Angeles, New York, San Francisco, Hawaii, Dallas, Chicago, Washington, Houston, Boston, Denver, Seattle and Atlanta. Your pet's comfort, safety and welfare is our number one priority, giving you complete peace of mind. For completely stress-free pet transport to USA, choose the friendly team at Jetpets.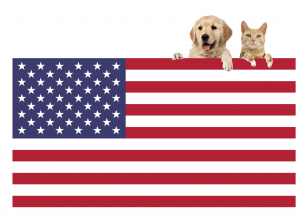 Why Choose Jetpets?
Customer Feedback:
AUGUST 2021
Indiana
Melbourne to Los Angeles, United States of America
Hello!! I have been meaning to email you but have been caught up with work. Indiana is so happy and is loving his walks up to Griffith observatory! Thank you again so much for all your help.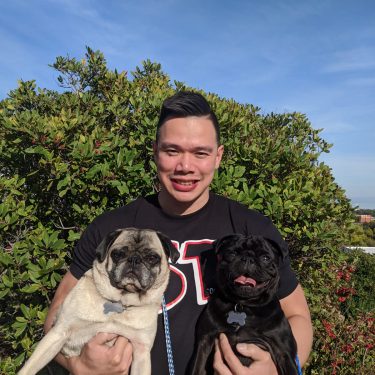 MARCH 2020
Bruce & Jet
Sydney to San Francisco, United States
Hi Aleesha! Bruce and Jet have landed safely in our arms in San Francisco. I just wanted to thank YOU and the entire Jet Pets and Pet Express teams for helping us with this process from Australia to America. I especially appreciate how easy you made it for us when we had to reschedule the flight with such short notice because of my husband's emergency knee surgery. Thank you for making it so seamless and for taking such great care of our babies. I cannot sing your praises loudly enough. Sincerely yours, Vicky 🙂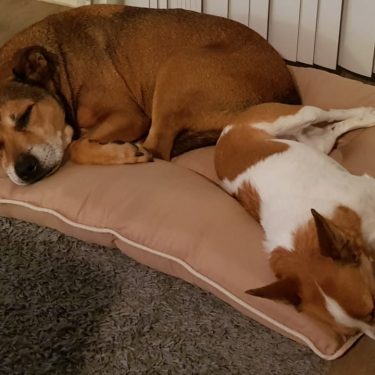 FEBRUARY 2020
Bert & Kuda
Brisbane to Denver, United States
I cannot speak highly enough of the team at Jetpets in Brisbane! We have just relocated to the USA and they have made the entire process for both our doggies a breeze. They made it safe and sound, great communication throughout the process from start to finish. I would highly recommend Danielle, Mike and Aleesha @ Jetpets. Thank-you all so much! Bert and Kuda say woof! Thanks for the love and pats from all the staff!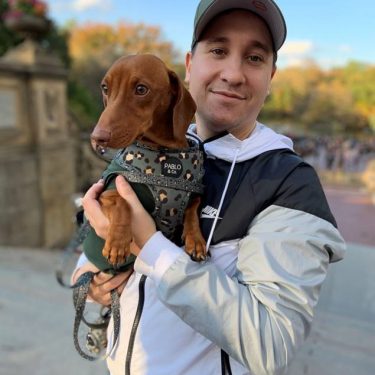 NOVEMBER 2019
Linguine
Melbourne to New York, United States
Hi Paige, Sandii and Jerry Just wanted to say a big thank you from Jen and I for helping getting our little boy to us. We had such a wonderful reunion and he was so happy to see us. Lots of kisses, cuddles and dancing. He is settling into his new surroundings well. Loves all the different smells! Thank you so much again for making his journey home seamless and keeping us up to date Rob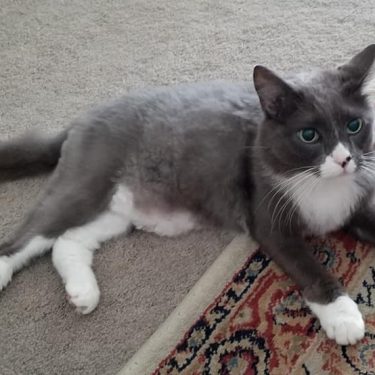 NOVEMBER 2019
Misty & Rueben
Sydney to Miami, United States
Hi Kate, Sandii and Jerry It will be a week tomorrow that Misty and Rueben had arrived from Sydney into Miami. They arrived in great condition and spirit much to my surprise and great relief. The regular updates and photos certainly put me at ease.. not that I did not think they would have been taken care of, but more so due to this having been one of their longest journeys that had ever taken outside of home in their 14 years of life. They are transitioning well to their new home .. baby steps being taken in introducing them to my brother and sister-in-law's cat Bugsy .. but good signs are ahead. I cannot thank you all enough for your kindness and professionalism during Misty and Rueben's trip. Kind regards Trudie Smith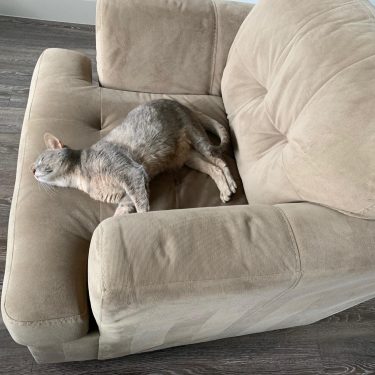 OCTOBER 2019
Indigo
Brisbane to Houston, United States
Dear Justin and Danielle, Many thanks for organising the very safe delivery of our girl. She is settling in even better than we thought she would, please see photo. Best regards, Frances (and Indigo)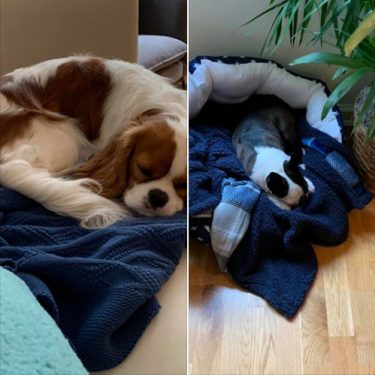 SEPTEMBER 2019
Harry and Riley
Sydney to New York, United States
Harry and Riley are happily snoozing after their big trip from Sydney to New York. You guys were so amazing and I could not have been happier with the way you looked after my dogs and let me know what was happening every step of the way. Thank you so much.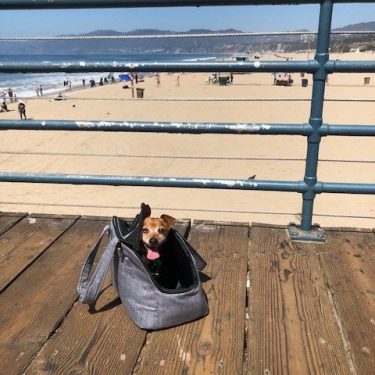 SEPTEMBER 2019
Forrest
Melbourne to Los Angeles, United States
Hi Melanie, Thanks so much for helping me move Forrest back to the US! When we dropped Forrest off that morning the pet handler was the nicest man ever! He was so friendly, understanding and patient with us. This was such an easy process with you guys. Here is a pic of Forrest at the Santa monica pier just an hour or so after I picked him up from the LAX airport!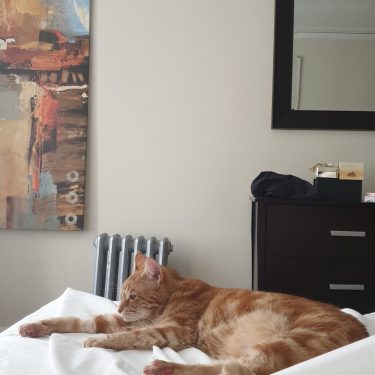 SEPTEMBER 2019
Parker and Nova
Sydney to San Francisco, United States
Hi Kaye They're settling in to their new home and I've attached a couple of photos for you of them looking very relaxed in bed and one of Parker surveying her new kingdom. Thank you to the whole Jetpets team for all of the help and support over the last few months. You took the stress out of the experience for us and I really appreciate everything the team did. All of our questions and concerns were addressed so quickly and I don't think we could have gotten through it without Jetpets! Thank you again for getting our beautiful little ones over here safely with us. Kind regards Tenielle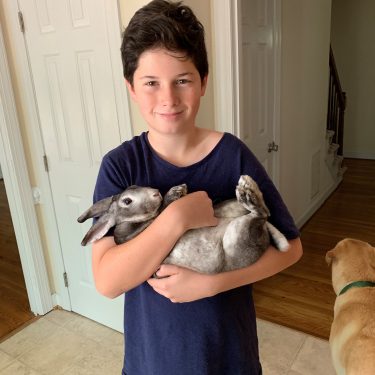 AUGUST 2019
George and Smokey
Sydney to Baltimore, United States
I just wanted to say I highly recommend Jetpets for any of your pets travel needs. I was extremely nervous about the entire process, as we have a highly strung rescue dog and a bunny that we needed to move from rural NSW Australia to Virginia USA. Justin from Jetpets was professional, courteous and very reassuring throughout the whole process and I had a lot of questions and concerns, he totally put my mind at ease. Both my pets arrived safe and sound, I was sent text messages, emails with photos and phone calls every step of the way so I knew how they were doing and where they were. They really care about the animals and are very experienced in this whole process. Sandii in LA was as friendly as she could be and I knew they were in great hands from start to finish.
AUGUST 2019
Zoe
Brisbane to Chicago, United States
Hi Justin, Thought I would touch base to let you know Zoe has settled in well!  Attached are a couple of pics of her - she couldn't be happier.  Thanks so much for all your help with her move - you really made it easy! Kind regards, Amanda
Setting the highest standards of care
Jetpets Melbourne has become the first pet transport company in the Asia Pacific Region to be awarded The Centre of Excellence for Live Animals Logistics (CEIV) Certification, and is one of only five companies in the world to have received the honour.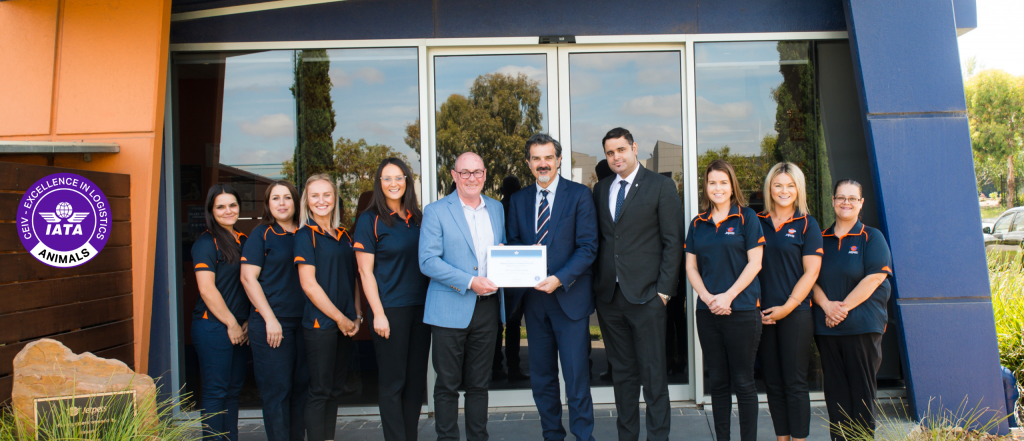 "Jetpets customers can be confident that their precious animals are traveling in safe and healthy conditions" – Glyn Hughes, IATA Global Head of Cargo
Mark & Mya's Jetpets Experience
Let us help you with your pet's travel to USA
Our Pet Travel Consultants:
Learn all about your pet.
Provide you with expert advice and will help you complete all your pet travel to USA requirements
Choose the best sized, airline-approved pet travel crate to ensure your pet travels comfortably, including a stay dry fleece mat
Arrange for your pet's travel crate to be delivered to your home prior to your relocation – see our travel crate familiarisation tips
Book your pet on the most direct flight to your destination in the United States
Arrange a comfort stop along the way
Can arrange a door-to-door transport service, from your home in Australia to your new residence in USA
Prepare your pet's personalised itinerary
Our Resident Vets:
Are experts in overseas pet travel and can provide dogs and cats with all the correct treatments they need to travel to USA
Will ensure all documents and treatments for overseas travel are done accurately to ensure a smooth relocation
Can be arranged to visit you at home (state dependent)
Will give your pet a health check at our Jetpets Transit Lounge prior to their flight
Our Pet Handlers:
Can come to your house and professionally fit your pet to the perfect sized crate (in metropolitan areas) prior to your pet's travel to USA
Will take care of your pet on the day of travel, giving them plenty of love, attention and walks
Check your pet in for their flight at the airport, ensuring they have been to the toilet and have plenty of water available
Will provide updates on your pet, including in the lead up to flights
Our Pet Transit Lounges:
Jetpets Transit Lounges allow for priority pet check-in
Are conveniently located near major airports in Melbourne, Sydney, Brisbane and Perth
Your pet will be able to have a stretch and relax out of their travel crate before and/or after their flight
Provide peace of mind knowing your pet will be taken care of if their flight is delayed or cancelled
Our resident vets are located at our pet transit lounges
Did you know?
The captain of the aircraft is aware that your loved one is on board their flight
The captain will set the temperature to approx. 18 degrees Celsius so that the animals are comfortable
The pets' cabin is dimly lit so that your loved one can see what is going on around them
What we feel and hear in the cabin of the plane is the same as what animals experience (except in a travel crate they have much more leg room than us!)
Behind the Scenes at the Airport
Gallery
---
FAQs – International Pet Transport to USA
Q: Bringing a dog from Australia to USA – how does it work?
For pets travelling to USA from Australia, you will need a health certificate. Annual vaccinations and valid rabies vaccinations are recommended. Jetpets can provide you with all the advice you need for your pet to travel to the US, including ensuring that all documents, vetwork and treatments are accurately completed, to ensure a smooth and hassle-free relocation.
Q: What is needed to bring a dog into the US?
All dogs must appear healthy and depending on which country your dog will be arriving from a valid rabies vaccination certificate may be required.
Q: Can I take my dog on holiday to USA?
Yes, taking your dog to USA for a holiday is possible. However there will be vetwork required prior to departure from Australia and again in the USA prior to your return. Pets would need to remain in USA for approx. 3 months to complete these requirements.
Q: How much does it cost to fly a dog internationally?
There are many factors that go into pet transport prices, including flight routes and destinations, size and weight of your pet, level of service provided and more. With Jetpets, you can rest assured that our quotes can be made all-inclusive, delivering a boutique experience for you and your pet – no hidden costs or surprises. We follow strict internal and external policies to ensure your pet's comfort and safety during travel, so our pet transport prices already include full-service provisions such as organising comfort stops for your pet along their journey and collecting your pet from the airport should there by a flight delay or cancellation. Your Jetpets pet travel consultant will talk you through all the available options, as well as provide you with a customised itinerary and quotation for your pet's travel to America.
Q: Are dogs quarantined when entering the US?
The United States don't require a quarantine period for dogs, except for Hawaii and the territory of Guam.
Q: Are cats quarantined when entering the US?
The United States don't require a quarantine period for cats, except for Hawaii and the territory of Guam.