International Pet Transport to Singapore
At Jetpets, our in-house team of pet travel consultants, resident vets and pet handlers will surpass your expectations when it comes to your pet's overseas travel to Singapore. We can provide a complete door-to-door pet transport service to any location in Singapore, including but not limited to Holland Village, Orchard Road, Bukit Timah, Woodlands and more.
We offer over 27 years' experience in transporting all types of beloved pets including dogs, cats, fish, birds and any other animals you may have. Your pet's comfort, safety and welfare are our number one priority, giving you complete peace of mind. If you want the best for your pet and a stress-free relocation to Singapore, choose the pet travel experts at Jetpets.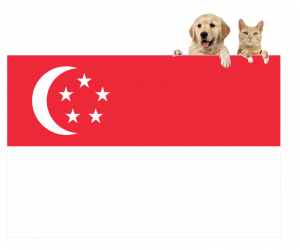 Customer Feedback:
MARCH 2018
Momo
Australia to , Singapore
Hello Rachael, It has been almost a week since Momo has arrived in Singapore, and he has settled in so very well. He is already comfortably lounging around the entire house on his own, and I have no doubt that this is thanks to the amazing job that you and the team at Jetpets have done. Thank you so much for handling Momo's move so professionally. Best regards, Shuuji Tone
FEBRUARY 2018
Inca
Australia to Singapore,
Hi Justin, Finally reunited with our fur baby! A big thanks to you and the team at Jetpets. Inca arrived happy and healthy. A very happy ending to her epic journey! Regards, Nicollee
FEBRUARY 2018
Busta
Australia to Singapore,
Hi Justin, Here is a photo to show how happy Busta was to be in Singapore. We cannot thank you and the whole team enough in Melbourne, Perth and Singapore. I'm sure we were more needy than the dog. Your professionalism and calm during my stressful moments was amazing. We would not hesitate to recommend Jetpets and when we return to Australia in 3 years we will use you again. Thanks for caring so well for our fur baby. Kind Regards Brendan, Annemarie and Busta Woodsell
JANUARY 2018
Holly
Australia to Singapore,
Hi Amy, Just a short note to say thank you for the incredible transfer service you provided for Holly. We were updated at every stage and were thrilled at seeing her arrive safely and on time. She settled in perfectly although it will take a little time to adjust to the humidity as you can see. 10/10 for jetpets!! Kind regards Jeremy
Relocating to Singapore? Let us provide a VIP pet travel experience
Our Pet Travel Consultants:
Find out all about your pet. Regardless of whether your pet is a dog, cat, rabbit, bird or guinea pig, we like treating all our pets like royalty!
Provide you with comprehensive advice on international pet travel including Singapore's quarantine and customs requirements
Help you decide on the best airline-approved travel crate to ensure a safe and comfortable journey for your pet, including a stay dry fleece mat
Arrange for your pet's travel crate to be delivered to your home – Use our travel crate familiarisation tips to help create a positive environment for your pet prior to their travel date
Book your pet on the most direct flight from Australia to Singapore
Arrange a comfort stop along the way
Can arrange a door-to-door pet transport service from your home in Australia to your new residence in Singapore
Prepare your pet's personalised itinerary
Our 24-hour customer service line is available for your complete peace of mind
Can even take care of your flight to match your pet's itinerary through Jetaway travel
Our Resident Vets:
Specialise in overseas pet travel and can provide your pet with the correct treatments they'll need prior to travelling to Singapore
Will accurately complete all documents and treatments required for overseas travel, ensuring a smooth relocation for you and your pet
Can come and visit you at home as a complimentary part of our service (state dependent)
Will give your pet a health check at our Jetpets Transit Lounge prior to their flight, making sure they're ready for their flight
Our Pet Handlers:
Can personally come to your house and professionally fit your pet to the perfect sized crate (in metropolitan areas) prior to your pet's travel date
Will give your pet plenty of love, attention and walks prior to their flight to Singapore
Check your pet in for their flight at the airport, ensuring they have been to the toilet and have plenty of water available
Will provide pet progress updates so you know how their journey to Singapore is going
Our Pet Transit Lounges:
Jetpets Transit Lounges allow for priority pet check-in
Are conveniently located near major airports in Melbourne, Sydney, Brisbane and Perth, saving you the hassle of airport traffic and finding parking
Your pet will be able to have a stretch and relax out of their travel crate before and/or after their flight
Be reassured that your pet will be taken care of if their flight is delayed or cancelled
Our resident vets are located at our pet transit lounges
Did you know?
The captain of the aircraft is aware that your loved one is on board their flight
The captain will set the temperature to approx. 18 degrees Celsius so that the animals are comfortable
The pets' cabin is dimly lit so that your loved one can see what is going on around them
What we feel and hear in the cabin of the plane is the same as what animals experience (except in a travel crate they have much more leg room than us!)
Behind the Scenes at the Airport
How Pet Travel Works: Overseas
Gallery