There are few things we love more than seeing our furry friends being reunited with their families!
Here are just a few of the gorgeous 'happy travellers' that flew with Jetpets over the summer months.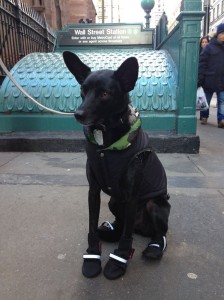 Rosie recently travelled with us from Sydney to the Big Apple – New York! (And yes, we may be just a little bit jealous!) Rosie's owner Heiko sent us this adorable photo of Rosie in her new home, and some great feedback:
"Hi Danielle,
Just a quick note to say that we all arrived well and safe in New York. We were able to pick up Rosie from Lufthansa Cargo at JFK and it was all straightforward. She was so happy to see us, but we may have been even happier to see her. I even got a call from Pet Express Animal Transport to make sure everything was in order.
Rosie is settling in okay in New York – it's very cold at the moment so she's still getting used to that I think. Attached is a picture of Rosie in her new winter outfit. Thanks again for all your help, Heiko"