Travel Crate Hire Australia Wide
Jetpets offers airline-approved travel crates for your pet's safe and comfortable transport
Going interstate and travelling with your pet on the same flight, but need to hire a travel crate? Our airline approved travel crates are available for hire. Jetpets promise that the travel crate we choose for your pet is suitable for their size.

What you need to get started:
You are travelling with your pet on the same flight and hold a valid airline ticket
You are flying with Qantas or Virgin Australia (Tiger and Jetstar do not carry animals on flights)
You have booked your pet as excess baggage through the airline
Qantas and Virgin Australia require all pets to travel in an airline-approved travel crate, which is arranged by Jetpets
Please give us enough notice – for departures from major airports 2 working days' notice is required and from regional airports we require 5 working days' notice.
If you are flying to or from a regional airport over the Christmas/New Year period, please call Jetpets to check travel crate availability
How we can help:
We hire out airline-approved travel crates and make the process simple and easy!
Let us know a few simple details about your pet and we will identify the most suitable sized travel crate for their size
All Jetpets travel crates are airline approved. We have an extensive range of custom built travel crates for any sized animal
We deliver the travel crate to the airport for your convenience – this is available Australia wide
Jetpets organises to have your travel crate available at the designated freight terminal* ready for your departure
Your travel crate will be labelled with your details as well as your pet's details
Upon arrival, you leave behind the travel crate at the designated freight terminal* after being reunited with your pet
Booking a travel crate with Jetpets is made easy – simply Book Online or Call a friendly Jetpets Pet Travel Consultant
* The airline will provide you with information on freight terminal locations and times
How to Familiarise my Pet with the Travel Crate
Ahead of your intended travel date, we can arrange for your airline-approved pet travel crate to be dropped off at your home (in metropolitan areas). During this time, you can help your fur baby get familiarised with their crate by placing it in their favourite area, as well as adding their favourite bedding and/or feeding them their meals or treats in the crate. This can help them to associate the travel crate with a happy environment when it comes time to travel.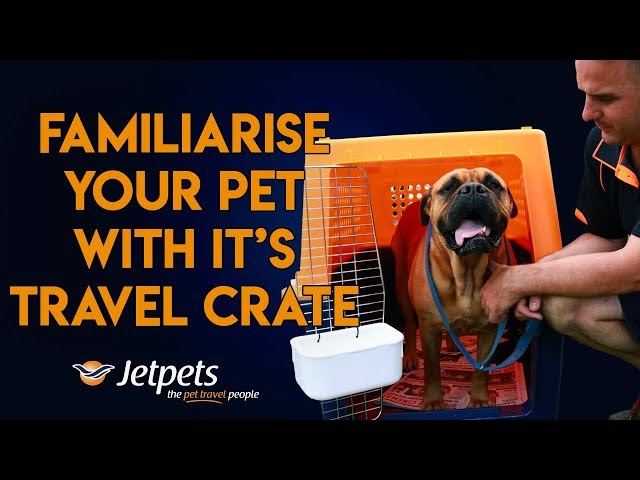 Travel Crate Gallery