Premium Charter Flights
Jetpets operates selected charter flights between Adelaide, Melbourne, Sydney and Brisbane. When choosing our premium charter flight service, you are guaranteed that your flight will not be cancelled which unfortunately can occur with traditional commercial flights. It also alleviates longer waiting periods for available commercial flights with the current airline schedules being extremely limited due to domestic border closures.
When booking your charter flight with Jetpets, our team of expert pet handlers will ensure your furbaby is pampered with love and affection from the moment they are in our care until they are reunited with loved ones. We can provide a complete VIP service for your pet to travel and arrive in style!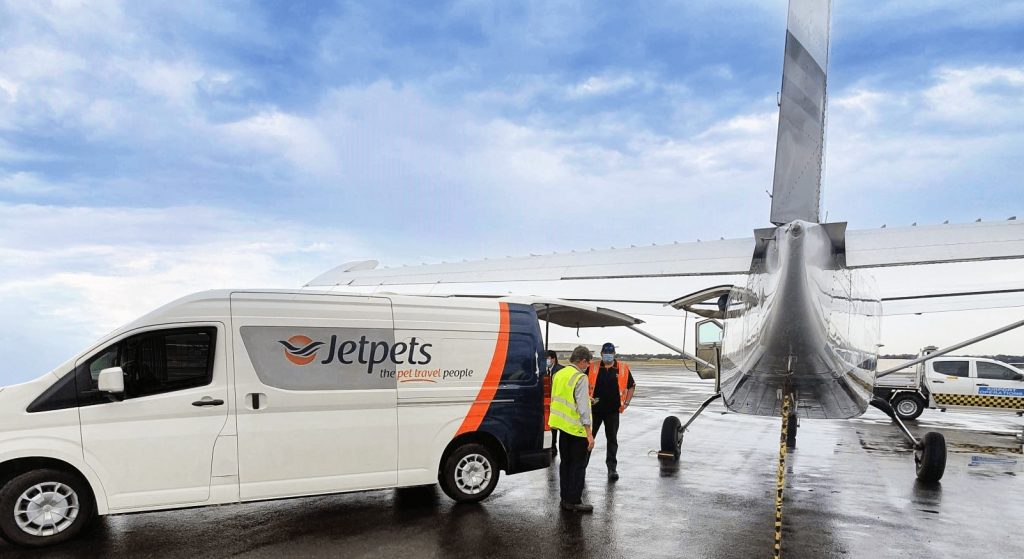 Our Pet Travel Consultants:
Provide expert advice on preparing your fur baby for their interstate journey
Decide on the best size travel crate to ensure their comfort
Arrange a stay-dry fleece mat for your furbaby's crate to keep them comfy and dry
Book your pet on our selected charter flight
Can arrange a door to door service to save you time
Prepare your special detailed itinerary
Ensure you receive a Pet Report Card and updates for their journey
---
Frequently Asked Questions About Charter Flights
Costs & Schedules
Q: Are These Flights More Expensive Than Standard Services?
Yes. Our charter flights are more expensive than our normal commercial services but offer more certainty and guaranteed departure dates.
Q: Do You Offer Any Other Destinations Across Australia?
No. Unfortunately our charter service only covers travel to and from Adelaide, Brisbane, Melbourne and Sydney at this point in time.
Q: How Often Are The Charter Flights?
We normally operate weekly flights.
---
Travel Requirements
Q: What Type Of Pets Can You Fly?
Jetpets transports cats and dogs for these charter flights.
Q: Does The Service Provide An Airline Approved Travel Crate?
Yes. Our service fee includes an airline accredited travel crate.
Q: Do I Have To Be Present At The Airport?
No. We can arrange pick up from your residence and delivery to your nominated residence at destination or pet hotel.
Q: Is There A Minimum Age For My Pet To Travel?
Yes. Jetpets only transports dogs and cats that are over 12 weeks of age and fully vaccinated.
Q: Do My Pets Have To Be Vaccinated For Travel?
Yes. Our flight will have other animals on board so it is important all pets are treated with their vaccinations at least two weeks prior to departure. That's C5 for dogs and F3 for cats. Our resident vets can assist with these vaccinations should you require assistance.
Q: Do You Transport Brachycephalic (Snub Nosed) Breeds On These Flights?
No. Unfortunately, we are not transporting these breeds at this point in time.