The Best Off the Lead Parks to Visit in Melbourne
Whether you're looking for a holiday in the hills, a city escape, or time by the sea, Melbourne pretty much has it all!
If you're planning a trip to Melbourne and you're bringing your furry pal along, or if you're a local looking for a new park to visit, here's our list of the best off the lead parks in Melbourne!
---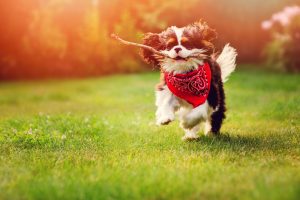 Brighton Dog Beach
Location: Seacrombe Grove, Brighton, 3186
Off the Lead: 24/7
It's time to trade in your traditional walk for one to the dog beach. Brighton Dog beach is designated for dogs all year round, and it is fenced, so you don't need to worry too much if your dog isn't the best at recall. Just remember to leash your dogs as soon as you leave the fenced area.
Albert Park
Location: Albert Park, 3260
Off the Lead: 24/7 in permitted off the lead zones, must be on a lead in picnic areas and on walking paths
Albert Park is a must see when visiting Melbourne. This lakeside park has several designated off the lead areas for you and your dog to enjoy. The park is equipped with dog-water taps and doggy-bag stations, (which is great for those days when you run out!)
Citizens Park
Location: Highett St, Richmond, 3121
Off the Lead: welcome at all times with the exception of during sports training and matches
Citizens Park is another great fenced dog park. Dogs are welcome to roam off the lead, as long as they are under effective control by their owners. This park is a local favourite for dog owners all year round. Make sure you do clean up after your dog, and keep an eye on them if they're prone to digging holes. This park is also utilised as a sporting oval, so best to keep keen diggers on a lead to prevent any issues for those competing at the park.
Aranga Reserve
Location: Eastway Avenue, Donvale, 3111
Off the lead: 24/7
If your dog likes adventure, then this is the dog park for you. Also known as the Dog Activity Centre, this dog friendly park is separated into three sections; general activity, training area and dog agility equipment.  Whether your dog prefers casual afternoon strolls, or regimented training games, there is sure to be something at Aranga Reserve for everyone to enjoy!
What are your favourite off the lead parks in Melbourne? Let us know!