Halloween is just around the corner, and with plenty of treats and scary costumes coming your way, you and your pets are in for some fun!
If you're keen to get your pets involved in the spooky festivities, here are a few tips and tricks to remember to ensure everyone enjoys the celebrations.
Dress them up:
Not that we needed another excuse to dress up our furry friends, but this Halloween why not get into the spirit and play dress ups? We love the idea of wearing matching costumes with our pets, just make sure there are no zips, pockets or embellishments that your pet can easily chew off. For some fun dress-up ideas, click here.
Take photos:
Now that you've got your pets all dressed up, why not have a photoshoot? Ask a friend or family member to take some photos of you and your pets all dressed up – we guarantee you will cherish these photos for a lifetime. Need some tips on how to take amazing happy snaps of your pet? Click here.
Make them treats: 
While there are plenty of lollies and chocolates to go around for us humans, it's important to keep these treats away from our pets and feed them pet-appropriate food only. But this doesn't mean they need to miss out on the fun! Why not make them some delicious pet-friendly biscuits they will love!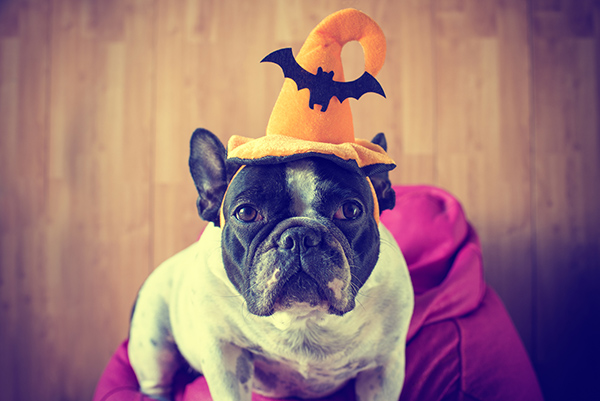 Keep them safe
While Halloween is great fun for us humans, it's important to be weary of common things that can put our pet's health at risk. Here are a few tips:
Keep all lollies and chocolate out of reach of pets. If you have these treats in the house, make sure you keep them on high tabletops and keep an eye on your pets at all times.
Thanks to the constant ringing on the doorbell and strangers turning up in funny costumes, your pet may understandably get a little frightened! To avoid any unnecessary stress, why not keep your pets away from the front door, and make sure you keep them entertained with their favourite toys.
Keep decorations away from pets as we all know how much they love to chew and play with just about anything!
With many people coming and going, it increases the chance of your pet leaving the house through open doors. Just in case that does happen, make sure their ID tags are updated and that they are microchipped so they can be easily returned home if they go wandering.