On the remote western edge of Africa, in the country of Sierra Leone, lies a great belt of tropical rainforest home to some of the worlds most unique and beautiful animals, Chimpanzees. Due to significant pressure from the illegal bush meat trade, rising human populations and deforestation, these populations are under threat.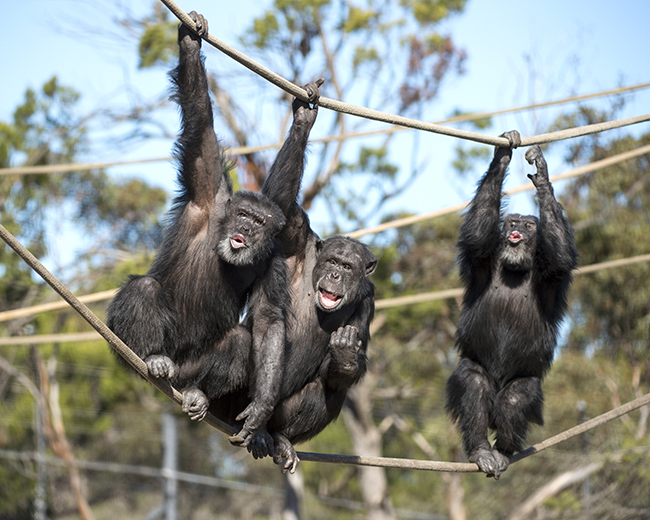 Monarto Zoo in South Australia is working directly with the Jane Goodall Institute and the Tchimpounga Chimpanzee Rehabilitation Centre to combat the threats to this amazing population. Monarto Zoo's Chimpanzee breeding program was recently bolstered by the addition of two new females from Taronga Zoo in Sydney.
Hannah and Lani were transported by Jetpets last month to join their new brothers and sister at Monarto Zoo and they are settling in, in their own unique ways.
Hannah was initially nervous in meeting her new troop but quickly overcame her social anxiety to settle in to a mothering role.
"They are doing really well and have settled in better than we could ever imagine. Hannah is just amazing with Enzi (our 2 ½ year old male chimp). She can be seen at times carrying him around, and he really likes her a lot. Our alpha male Tsosti has taken a liking to Hanna and is supportive of her in any disputes", said Monarto Zoo's Team Leader Althea Guinsberg.
While the playful and social, Lani, has taken to grooming her new-found friends after sitting back and observing for a while.
"Lani is doing well; in the beginning she was not happy and that affected her appetite, but this did not take long to change and soon she was foraging with the troop. She gets on well with our one adult female Galatea and the two have some great grooming sessions. Gombe, one of our males, also loves grooming with Lani and they get on really well", said Althea.
With Chimpanzees being classified as an endangered species with approximately 150,000 to 300,000 chimps remaining in the wild it's never been a better time to support the conservation work being done by Monarto Zoo and their partners. If you would like to donate and assist in the important work they do, you can do so by visiting this link or if you are in South Australia stop by Monarto Zoo for the ultimate chimpanzee experience.